Bhabanipur by-polls: BJP's Priyanka Tibrewal to file her nomination papers today
Published on Sep 13, 2021 06:02 AM IST
Tibrewal kickstarted her campaign on Sunday by painting the BJP's symbol of lotus on a wall in Bhabanipur.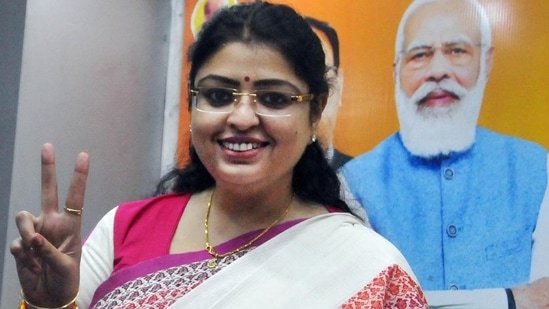 The Bharatiya Janata Paty's Priyanka Tibrewal will on Monday file her nomination papers for the by-election to the Bhabanipur seat. A lawyer, Tebriwal has been fielded against West Bengal chief minister and Trinamool Congress supremo Mamata Banerjee, who has already filed her nomination papers.
Tibrewal kickstarted her campaign on Sunday by painting the BJP's symbol of lotus on a wall in Bhabanipur. "I will file my nomination tomorrow. The people of West Bengal have the right to live. This right is being taken away from them by the Trinamool Congress led by Mamata Banerjee," she said on Sunday. "I am fighting for the people of Bengal," Tibrewal also said.
She is currently the state vice president of Bharatiya Janata Yuva Morcha (BJYM), the BJP's youth wing. She joined the BJP in 2014.
Also Read | Why BJP pit youth leader Priyanka Tibrewal against CM Mamata in Bhawanipore?
On Saturday, Tibrewal visited the Kalighat Temple in Kolkata, where she offered her prayers to Goddess Kali ahead of the Bhabanipur fight. During the visit, Tibrewal asserted that her fight is "against the members of the ruling party as they have done injustice to the people of West Bengal."
By-polls for Bhabanipur will be held on September 30 along with two other constituencies of Jangipur and Samsherganj. The counting of votes will take place on October 3—the week before Durga Puja celebrations kick off in Bengal.
The by-poll at Bhabanipur were necessitated after Sovandeb Chattopadhyay, who originally won the Bhabanipur seat in the assembly elections held this year, vacated the seat to facilitate Banerjee's continuous rule the state following her defeat in Nandigram. Chattopadhyay won from Bhabanipur by a margin of more than 28,000 votes.
Banerjee lost to her former aide Suvendu Adhikari by a close margin of 1,956 votes from the Nandigram constituency in the assembly elections. As the TMC came back with a thumping majority, Banerjee was sworn in as the chief minister for the third time. However, as per the Constitution, Mamata has to win on any seat in the state to have the chance of becoming a member of the state assembly. In fact, she has to win before November 5 to remain the chief minister's position.
Meanwhile, Congress has announced that the party will not be fielding any candidate for the Bhabanipur by-polls.