Bihar: How criminals beat the law with ex-school principal's fake age certificates
Updated on Jun 08, 2017 07:00 PM IST
Patna police believe Bhawani Shankar Pandey sold at least 100 fake school leaving certificates to suspects to fudge their age and pass off as juveniles.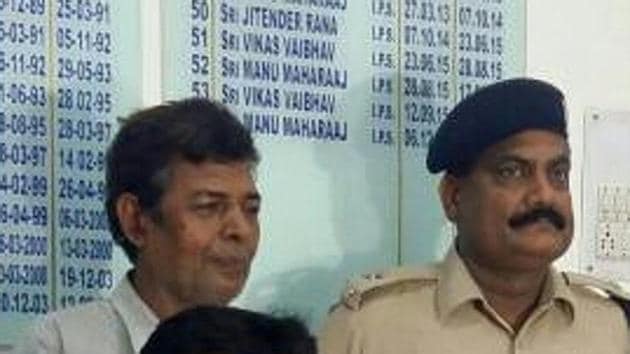 For Bihar police, Bhawani Shankar Pandey stood between crime and punishment for a price. They have put the 62-year-old former school principal behind bars on charges of selling fake school leaving certificates to adult crime suspects to fudge their age and pass off as juveniles in the eyes of the law.
A juvenile offender can be sentenced to a maximum of three years in a reform home.
"Pandey's role extended to court depositions to certify his clients as juveniles and he charged extra for this — Rs 50,000 in each case," Patna senior superintendent of police (SSP) Manu Maharaaj said on Thursday.
Police suspect Pandey sold at least 100 fake certificates between 2011 and 2013 when he was principal of Om Shiv-Parvati Shanti Niketan Madhya Vidyalaya, a government middle school (up to Class 8) in Patna's Shastri Nagar. The school that functioned from a single room was de-recognised in 2013.
Police zeroed in on Pandey last month after Santosh Kumar Singh, father of engineering student Saurabh Kumar who was murdered in 2015, challenged a school leaving certificate the accused produced in court to claim juvenile status. Pandey gave the certificate to the accused whose age is being verified, said police.
Barely days after Pandey's arrest on May 24, the family of suspected dowry death victim Suman Kumari alleged that the accused in the case used a fake school leaving certificate from Pandey to claim he was not 27 years old but 17 when the case was registered in 2015.
Incidentally, this accused has four different documented dates of birth spanning 11 years. On his driving licence his date of birth is March 3, 1989; on Aadhaar and PAN card it is March 13, 1988; his elector photo identity card states it is 1987; and the school leaving certificate from Pandey records his date of birth as March 20, 1998.
Maharaaj said Pandey also gave a fake certificate to Ranjeet Kumar, who is accused of killing marble trader Ramchandra Jha in Patna in September 2016. "Kumar claimed he was a minor when the crime was reported," Maharaaj added.
Police are investigating if Pandey, who is in judicial custody in Beur central jail, sold fake certificates to criminals from outside Bihar as well. What's more, police know there are more persons issuing such fake certificates.
"At least two other notorious criminals, Pinku Jaiswal and Makhkhan Gope, who have between them 21 cases of murder and loot, have managed to get bail from courts on the basis of such school leaving certificates," said Maharaaj. These certificates were not from Pandey, he added, declining to share details.
Pandey's arrest has put the spotlight on the May 17 murder of undertrial gangster Babloo Dubey on Bettiah court premises. "Inmates of a remand home moved out of judicial custody, shot Dubey and slipped back into the home, which worked as a haven," said West Champaran superintendent of police Binay Kumar.
Police arrested one of the suspects in Dubey's murder after ascertaining he was not a juvenile but had made it to the remand home on the basis of a fake school leaving certificate.
Personalise your news feed. Follow trending topics