'Don't cross your limits': BJP MLA berates woman IPS officer in Gorakhpur
May 08, 2017 11:35 PM IST
The incident occurred in Yogi Adityanath's parliamentary constituency Gorakhpur when some people, protesting against a liquor shop, were removed by the police.
A BJP leader from Gorakhpur is under fire for berating an IPS officer in his constituency, also the base of chief minister Yogi Adityanath, after police attempted to remove anti-liquor protesters.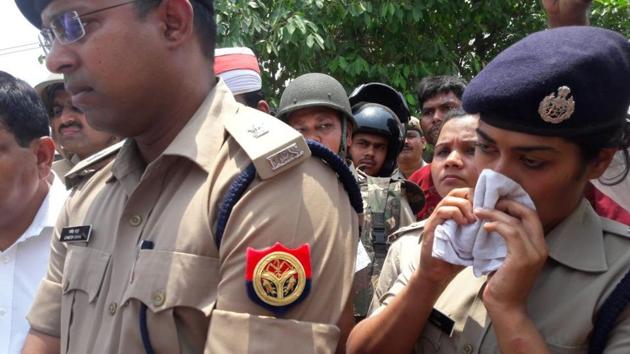 "Don't cross your limits," MLA Radha Mohan Das Aggarwal is seen saying angrily to IPS officer Charu Nigam, in a video that has gone viral.
Nigam is later seen wiping tears in the video. "I did not weep, as it is not ingrained in my personality. However, I got emotional when my senior officer supported me", she said, after reports claimed that she had broken down.
The incident took place on Sunday morning when a group of women blocked a road to protest reopening of liquor shops closed following an agitation led by the MLA 15 days ago.
Police allegedly used mild force to clear the protesters, and took some women to a police station. Nigam sustained minor injuries during the police action.
MLA Aggarwal reached the site and demanded police free the agitators. It was then that he is seen talking angrily to the police officials.
"As a public representative it was my responsibility to speak up against police brutality on women. They beat up a pregnant woman, thrashed elderly people and children," the MLA said, adding that he was speaking to the sub-divisional magistrate when Nigram "unnecessarily" stepped into the conversation.
The police denied assaulting protesters and accused the MLA of misbehaving with Nigam.
"The law maker manhandled me and refused to identify me as a cop. SP city, who came to my rescue, showed him my injuries to back our claim that the crowd attacked us... "
Nigam has been active in the newly formed anti-Romeo squads.