BS Yeddyurappa oath ceremony: BJP leader becomes 23rd Karnataka CM after midnight court drama
BS Yeddyurappa took over as Karnataka chief minister after two days of uncertainty since the votes were counted on May 15. The governor has granted him 15 days to prove his majority in the state assembly.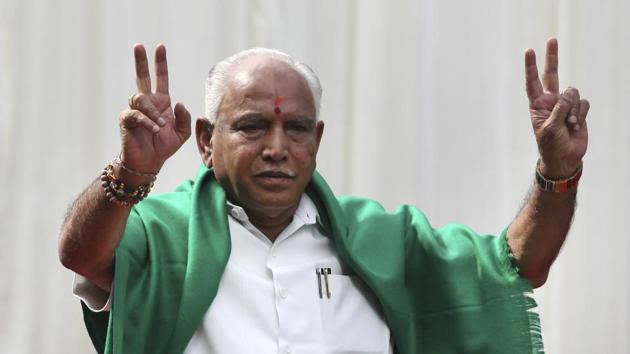 Updated on May 17, 2018 04:13 PM IST
BJP leader BS Yeddyurappa took oath as the 23rd chief minister of Karnataka at the Raj Bhavan in Bengaluru on Thursday morning, hours after the Supreme Court rejected a petition seeking a stay on the ceremony. (Live updates)
This is the third time BSY, as he is popularly known, has taken over as the chief minister. In 2007, he ruled for seven days before BJP's then coalition partner Janata Dal (Secular) refused to support his government over disagreement on sharing of ministries and withdrew support. In 2008, he again took over as the chief minister but lasted only 39 months before he was arrested on corruption charges.
Sporting a green shawl, that symbolises the farmers' movement, Yeddyurappa took oath in the name of God and farmers amid chants of 'Modi, Modi' by jubilant cadres. Karnataka governor Vajubhai Vala administered the oath in the presence of senior state BJP leaders and Union ministers, even as JD(S) and Congress leaders protested outside. Heavy police security was put in place to ensure that no untoward incident occurs on the occasion.
Yeddyurappa (75) takes over as the chief minister after two days of uncertainty since the votes were counted on May 15, when the BJP emerged as the single-largest party in the state with 104 seats but fell short of reaching the half-way mark of 112 in the assembly. The Congress and the JD(S) joined hands in the hours that followed, and approached the governor with a request to let them form the next government in the state with HD Kumaraswamy as the chief minister. They also submitted a letter with the signatures of 116 legislators to Vala.
This was preceded by Yeddyurappa also staking claim.
On Wednesday night, Vala invited Yeddyurappa to form the government in the state -- prompting the Congress to challenge the decision in Supreme Court. While the apex court did not dismiss the petition, it permitted Yeddyurappa to take oath as the chief minister. It will hear the Congress' plea at 10.30 am on Friday.
Vala has given Yeddyurappa 15 days to prove his majority on the floor of the House, prompting analysts to fear that the BJP will use this period to convince legislators of the Congress and the Janata Dal (Secular) to abstain from voting. The Congress also objected to the length of time provided to the BJP.
"This morning, while the BJP celebrates its hollow victory, India will mourn the defeat of democracy." Congress president Rahul Gandhi tweeted as the new chief minister took oath.
Close Story