BJP's Mission 150: Inside Amit Shah's 200-day plan to wipe out Congress from Gujarat
The BJP has ruled Gujarat for 22 years but now wants to win an unprecedented 150 out of 182 seats.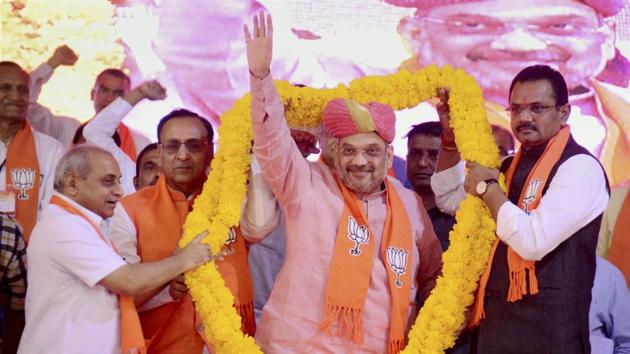 Updated on Apr 27, 2017 05:30 PM IST
The Bharatiya Janata Party (BJP) in Gujarat has drawn up ambitious plans to win 150 of the 182 assembly seats in state elections scheduled this year-end, emboldened by sweeping victories in Uttar Pradesh and elsewhere.
Codenamed Mission 150, the plan centres around Prime Minister Narendra Modi, who is expected to visit his home state at least once every month till the elections. Also in focus is micro-level planning down to the grassroots level.
Modi, the state's chief minister till he became the prime minister, drew rapturous crowds during a road show in Surant earlier this month, reaffirming his unmatched crowd-pulling ability.
"We hope to ride the Modi magic," said a top BJP functionary in the state.
The BJP, which has continually been in power in Gujarat since 1995, expects the next elections to be a cakewalk with the Opposition in total disarray. Recent electoral setbacks for Arvind Kejriwal's Aam Aadmi Party (AAP) – first in Punjab and in New Delhi - have emboldened the ruling party further, emboldening it to set a higher target for itself.
The BJP's best performance was in 2002 when it won 127 seats.
Party insiders say Amit Shah, the BJP national president and Modi's trusted lieutenant, has already set into motion elaborate plans to realise the revised target, including extensive travel plans for the top leadership over the next 200 days.
Leaders such as Shah himself and current chief minister Vijay Rupani will focus more on the booths, the lowest rung on the party organization, during their whirlwind trips across the state. The party hopes to enlist more members at the lowest level and reinvigorate existing members.
"Be it new concepts like Vistarak Yojana (expansion scheme) or Karyakarta Pravas (worker travel), everything from now on will be focused on strengthening the party structure at booths," said BJP spokesperson Bharat Pandya.
"Amitbhai's message in recently concluded state executive meet was loud and clear - Congress-mukt booths," Pandya added.
Under Vistarak Yojana, 550 party leaders will for the six months nurture areas assigned to them. During this period, they will reach out to every influential voter, identify former Jan Sangh and BJP workers and try to make them active, and also contact holy men of the area.
Even Shah is expected to spend three days in a tribal area under the programme.
Chief minister Rupani has also been entrusted with the task of monitoring "Page Presidents" – persons in-charge of every page of the electoral roll. Electoral rolls every booth run into 48 pages and the 48 people will aim to personally contact each of the voters listed on the page they are assigned. Gujarat has a total of 47,000 polling booths.
Boasting of 1.10 crore registered members, the BJP will send its MPs, MLAs and office-bearers to their respective areas to strengthen booth-level organizations. The micro-level planning is to negate any anti-incumbency that the party is likely to have accrued over the years. The work on the ground, leaders say, will also blunt the offensive that Patidar leader Hardik Patel is expected to launch closer to the elections.
Patidars account for 12% of Gujarat's 6 crore population and are generally believed to be upset with the state government for its "indifference" to their demand for job reservations.
Close Story