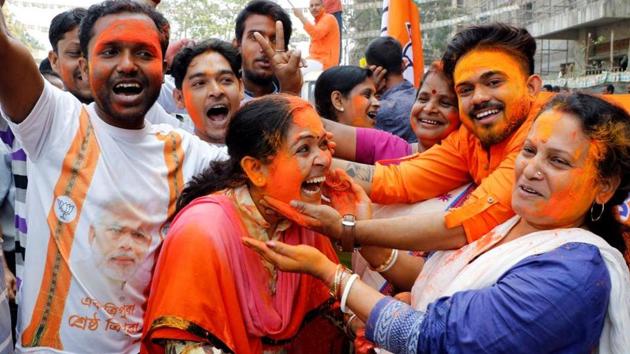 BJP spread in northeast raises hope of resolving inter-state border disputes
Last month, tension flared up between Assam and Mizoram after Assam police baton-charged a group of Mizo students trying to construct a resting shed on the border.
UPDATED ON APR 01, 2018 07:08 PM IST
India's northeast is no stranger to border disputes among states, but the Bharatiya Janata Party's (BJP's) rise in the region has triggered talk of possible resolution in some areas. The BJP is in power, either on its own or through alliances, in six of the eight states.
Last month, tension flared up between Assam and Mizoram after Assam police baton-charged a group of Mizo students trying to construct a resting shed on the border.
While the students led by Mizo Zirlai Pawl, the state's biggest students body, claimed they were constructing the shed on land donated by Mizoram's former chief minister Ch Chhunga, Assam police claimed the land was Assam's territory.
The violence led the Union home ministry to convene a meeting of chief secretaries of both states. Last week, Union home ministry officials visited the disputed spot, following which both states decided to maintain status quo.
Assam and Mizoram share a 164.6-km boundary. Mizoram was part of Assam till 1972, when it became a Union Territory. It became a state in 1987.
There have been minor skirmishes over the years, with Mizoram seeking delineation of the border on basis of East Bengal Frontier Regulation of 1873.
Assam's border disputes with other states
Assam also has border disputes with Arunachal Pradesh, Nagaland and Meghalaya. These three states too were a part of Assam at one point.
Assam has an 804-km boundary with Arunachal Pradesh. Over the past three decades, there have been several instances of violence on the border, with allegations of encroachments from both sides. The dispute is in the Supreme Court.
The most violent of the border disputes have been between Assam and Nagaland. Soon after Nagaland was created in 1963, it claimed rights over parts of Assam, which accused it of encroachments.
Both states share a 512-km boundary. Violent border clashes took place in 1979 and 1985, claiming nearly 100 lives. Most of the victims were from Assam.
Two commissions set up by the Centre to resolve the disputes failed, as both states refused to accept the recommendations. The matter is now with the Supreme Court.
The border dispute between Assam and Meghalaya too is simmering for decades. Meghalaya claims several parts along the boundary as its own, while Assam alleges encroachment of its territory. The dispute hasn't reached the courts yet.
Talk of dialogue
The BJP is in power in Assam and Arunachal Pradesh, and after last month's elections, it is part of the National People's Party-led coalition in Meghalaya and the Nationalist Democratic Progressive Party-led government in Nagaland.
In February, Assam minister Ranjit Dutta told a gathering in Itanagar that consultations were underway between Assam chief minister Sarbananda Sonowal and his Arunachal Pradesh counterpart Pema Khandu "to hammer out a permanent solution" to the dispute between both states.
Meghalaya's home minister James PK Sangma said, "Both our governments are keen on resolving the border issues. A lot of it depends on the will of the governments in power. We hope the disputes get resolved amicably through bilateral dialogues."
However, not everyone seems confident, especially in Mizoram, the only state in the region where the Congress is in power, and which goes to polls later this year.
"The border dispute between our states is a difficult one to sort. We are prepared to take it to the Supreme Court if the matter isn't resolved properly," Mizoram home minister R Lalzirliana said last month.
Close