Anonymous blog targeted Shujaat Bukhari before his killing, govt wants it shut
Updated on Jun 22, 2018 09:25 AM IST
Shujaat Bukhari was killed in a drive-by shooting on the evening of June 14 by three men on a motorcycle as he left Srinagar's Press Colony, where his newspaper's offices are located.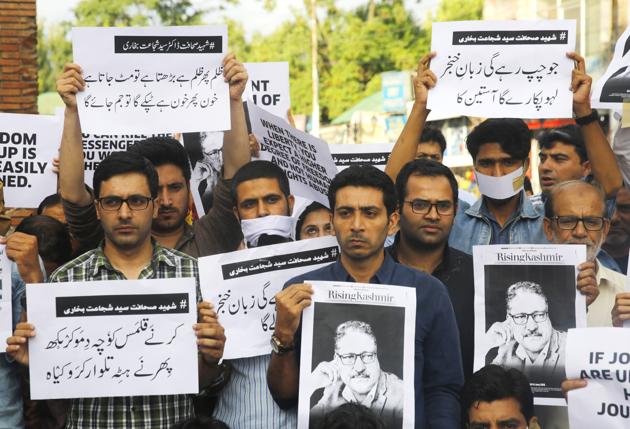 Hindustan Times, New Delhi |
Rajesh Ahuja
Eleven days before Rising Kashmir editor Shujaat Bukhari was gunned down, a blog post titled "Touts who are betraying the Kashmir struggle" appeared, targeting the journalist. Minutes before his killing, Bukhari expressed his fears over the online hate campaign.
Now, security agencies are investigating the blog which also targeted other journalists, businessmen, politicians and activists engaged in so-called Track-II diplomacy as "betrayers" of the "struggle of Kashmir" and for carrying out the "dirty work of defaming (the) Kashmir cause".
Jammu and Kashmir police have also started the process of getting the blog blocked, officials familiar with the matter said on condition of anonymity.
"The blog is adding to the atmosphere of fear, especially after the killing of Shujaat Bukhari, prevailing in Srinagar. This rubbish blog is nothing but intellectual terrorism. It is making us think twice before what we write or say," a person named in the blog said, requesting anonymity.
Bukhari was killed in a drive-by shooting on the evening of June 14 by three men on a motorcycle as he left Srinagar's Press Colony, where his newspaper's offices are located.
"We are investigating the blog (kashmirfight.wordpress.com) and trying to find out who is behind it. The Jammu and Kashmir police have initiated the process of blocking the blog. We are writing to the Union home ministry in this regard," said a senior Jammu and Kashmir police official who spoke on condition of anonymity.
The blog has a history of inflammatory and hostile posts.
Another post titled "India Infiltration through Media Houses to promote Indian version of Kashmir Struggle" named journalists whom it termed "scribes who betray the very blood that runs in their veins by selling the sacrifices".
Two other posts target Kashmiri police officers; one of them is titled "Police & Administrative Officers: Serving whom …Curtain Raiser".
A day after Bukhari's killing, the unidentified blogger again targeted him, writing that while the incident was "condemnable", an individual's past actions couldn't be washed away "by his demise".
The blog was started on January 10 and claimed its purpose was to update readers about the "Kashmir Struggle".
Ahmed Ali Fayyaz, an independent journalist and a former Srinagar correspondent of The Hindu, said that almost a week before the killing, he had informed Bukhari about the blog.
"Shujaat told me he knew about the existence of the blog and he had made a complaint about it to police. But nothing has been done to stop the blog even after killing of Shujaat," added Fayyaz who has also been targeted by the blog. .
He added that the blog content was more fiction than facts.
"I have never been part of any Track-II diplomacy as alleged by the blog as I believe as a reporter my job is to report. It is my personal view and I have nothing against those in my fraternity who have been part of such efforts," said Fayyaz.
Track-II diplomacy entails consultations between non-governmental entities, individuals and groups seeking to build trust and keep backchannel communication links open.
Iftikhar Gilani, who works with DNA newspaper in Delhi and has been targeted in the blog as he was present at a Track-II meeting in Dubai as an observer, says minutes before Bukhari was killed, he had a conversation with the editor.
"Shujaat warned me to be careful as the social media campaign was getting shriller... I told him to come to Delhi after Eid and have a meeting with Union home minister Rajnath Singh to raise concern in this regard. But in the next twenty minutes, Shujaat was killed," said Gilani
A senior security official who spoke on the condition of anonymity confirmed that Bukhari had made a complaint about the blog.
"But at (that) point in the time the blog was just considered a nuisance. Now after Shujaat's killing every word of it being taken very seriously," said the official.
Such online platforms are common in conflict zones and used to scare media and undermine the working of democracy, an expert said.
"The security agencies must keep a watch on such platforms as they add to the atmosphere of fear," said Ajit Lal, a retired Indian Police Service officer and former chief of joint intelligence committee which analyses data from intelligence agencies.
Personalise your news feed. Follow trending topics