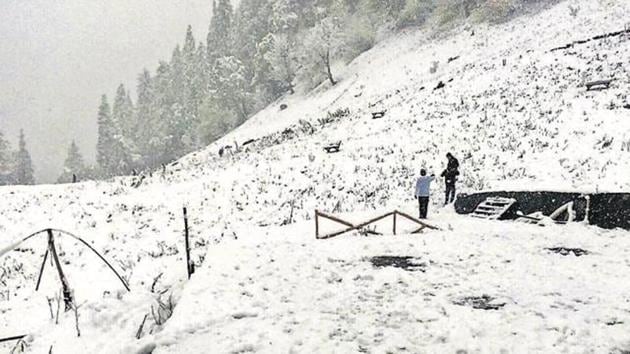 Trek turns fatal: Bodies of Hamirpur NIT students found in snow in Mandi hills
Body of Akshay Kumar, an MBA student from NIT Hamirpur, was recovered by the rescue and search operation team on Friday.
Mandi | By Roop Upadhyay
, Mandi
UPDATED ON JAN 14, 2017 10:10 AM IST
Bodies of two students from National Institute of Technology (NIT) in Hamirpur — one of them mutilated apparently by a wild animal — were found in snow near the 11,000 feet high Shikari Devi temple in Himachal Pradesh's Mandi district on Friday. Reported missing four days ago, the students, Akshay Kumar (24) and Navneet Rana (23), had trekked to the temple and purportedly died of hypothermia after being trapped in heavy snow.
While Akshay was a student of environment science and belonged to Sujanpur area of Hamirpur, Navneet was a student of MBA (first year) from Barmana area of Bilaspur district. From January 5, they had taken lave for three days from the institute on the plea of visiting home, but they never did.
When they did not return at the expiry of their leave period, the institute informed their parents, who found out about the duo's trekking plans from their Facebook posts. They approached the sub-divisional magistrate (SDM) of Janjehli, which falls on the trek route. Mandi deputy commissioner Sandeep Kadam said the police found their last location from the mobile phone signals to Janjehali, and preliminary investigation revealed that some locals had spotted them too. The FIR was lodged eventually on Thursday.
The district administration formed a rescue team of more than 40 persons — police, locals and mountaineers — led by deputy superintendent of police (DSP), headquarters, Hitesh Lakhanpal the same day. Akshay's body was found mutilated, apparently by a wild animal. The bodies, found barely a kilometre from the temple, were identified from documents in their bags.
"This area has witnessed about 7-10 feet of snow this time, and it is tough to walk," said the DSP, adding that the team was divided into two units that approached the temple from different routes. The post-mortem would be conducted on Saturday before handing them over to the families, he said.
Close