Jawan killed at border with Pak had multiple gunshot wounds: BSF
Updated on Sep 19, 2018 11:48 PM IST
The body of the jawan, part of a four-member team that was engaged to cut Sarkanda (wild grass) along the fence, was found along the border on Tuesday evening, nearly 10 hours after the incident.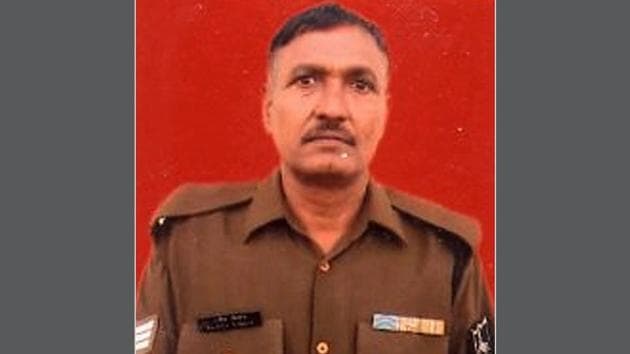 Hindustan Times, Jammu |
Ravi Krishna Khajuria
A Border Security Force (BSF) jawan is suspected to have been executed and mutilated by men from Pakistan across the International Border in Jammu, according to two officials who said that this would be among the first such killings along the demarcated boundary.
Following an attack by Pakistani forces on Tuesday, head constable Narender Kumar was found with multiple bullet injuries and gashes that suggested his throat was slit and an attempt was made to gouge his eyes out, according to officials who asked not to be named.
"The BSF jawan was ambushed, his weapon was confiscated and his throat was slit. An attempt was made to gouge his eyes out," an intelligence official said in Jammu.
Such killings are not unheard of on the Line of Control in Kashmir, where troops from both sides often accuse each other of engaging in hostilities, but are rare on the International Border.
The Pakistan Rangers did not respond for six hours to requests to allow for a search operation, and, when they eventually did, they did not cooperate fully, a second government official in New Delhi told Hindustan Times, asking not to be named.
The Border Security Force then waited for the sun to set and launched a "risky operation" to bring the jawan's body back to the post by "late evening", the official added. "The jawan had been dragged to the Pakistani side."
In a statement, BSF confirmed Kumar's death and said that he was part of a patrol party that came under fire while clearing tall grass close to the boundary.
"The firing of Pakistan side was retaliated by the patrol and they tactically extricated themselves to their side of the fence. The patrol found one of their members missing," it said, adding that reinforcements later retrieved the body.
The statement did not refer to the knife wounds, identifying only "multiple bullet injuries on his torso including neck".
According to an official in the army headquarters, India lodged a protest with Pakistan against the firing on the BSF troopers at the level of the directorate of military operations on Tuesday.
According to the intelligence officer quoted above, attacks of this nature are usually carried out by the Border Action Team on the Pakistani side.
This squad, Indian officials have long believed, consists of Pakistani army regulars as well as members of militant organisations such as the Lashkar-e-Taiba and the Hizbul Mujahideen.
That Pakistan is now under new Prime Minister Imran Khan also makes Tuesday's unprecedented attack significant.
(With inputs from HTC in New Delhi)
Personalise your news feed. Follow trending topics