Budget 2023: Defence spending hiked by nearly 13 per cent to
₹

5.94 lakh crore

Feb 01, 2023 04:06 PM IST
Union budget news: Armed forces' modernisation budget also saw a hike - ₹1.52 lakh crore to ₹1.62 lakh crore.
The defence budget for 2023/24 will be hiked by 12.95 per cent - from ₹5.25 lakh crore to ₹5.94 lakh crore - to allow the military to develop and/or buy advanced weapons systems, including new fighter jets, submarines and tanks, finance minister Nirmala Sitharaman said Wednesday as she presented the government's budget. She also said the budget for capital expenditure had been increased by around ₹10,000 crore to settle at ₹1.62 lakh crore.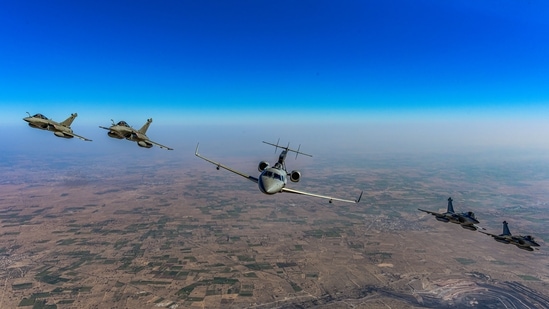 The armed forces' modernisation budget also saw a hike - ₹1.52 lakh crore to ₹1.62 lakh crore; a significant portion of this is for acquisition of weapon systems and equipment from domestic manufacturers in line with the government's 'Make in India' programme. The increased to the modernisation budget is only around 6.5 per cent - seen as a moderate hike. In 2022/23 revised estimates for budgetary allocation for capital outlay were ₹1.5 lakh crore.
Union Budget 2023/24 | Full Coverage on Hindustan Times
News agency PTI cited budget papers as saying an allocation of ₹2.70 lakh crore had been made for revenue expenditure that includes salaries and maintenance of establishments.
Budgetary allocation of revenue expenditure in 2022-23 was ₹2.39 lakh crore.
₹1.38 lakh crore has been allocated for defence pensions.
What equipment are the armed forces planning to buy?
The Air Force plans to acquire new fighter aircraft as part of plans for inducting next-gen (4.5) fighter planes in addition to investing in indigenous fighter jets.
Watch: President Droupadi Murmu hails Narendra Modi government for defence exports, making India 'Aatmanirbhar'
The Navy is also looking to acquire fighter jets - from France - but that deal is unlikely to be concluded this year as procedures have yet to be initiated.
READ | 'Pack is complete': Indian Air Force on getting last of 36 Rafale jets
Last year the French-made Rafale-M edged out the United States' F/A-18 Super Hornet for 26 new deck-based fighters for INS Vikrant - the indigenously developed aircraft carrier that will partner INS Vikramaditya.
READ | New aircraft carrier, drones, fighters in latest boost for Navy
The Air Force already operates two Rafale squadrons and there will be ease of maintenance if the Navy orders the maritime version. The Navy is also focusing on acquisition of submarines under Project 75 India, but this may take time.
READ | French Rafale-M edges out US' F/A-18 in Indian Navy fighter contest
Meanwhile, the Army will be initiating the process to acquire light tanks and artillery guns for operational requirements on the Ladakh front, PTI reported.
What did the defence minister say?
Rajnath Singh said he hoped this year's budget would 'bring about positive changes... lead us to achieving our goal of becoming a US$5 trillion economy'.
What did the president say about India's defence sector?
On Tuesday, while delivering the opening remarks for this session of Parliament, president Droupadi Murmu praised the Modi government for having boosted India's defence exports by 'six times... '
With input from PTI