Calcutta HC's Justice Karnan accuses SC of 'upper caste' bias over contempt notice
Hindustan Times, Bengaluru/New Delhi |
Sudipto Mondal and Soibam Rocky Singh
Mar 09, 2017 01:20 PM IST
On February 8, a seven-judge Supreme Court bench headed by Chief Justice JS Khehar had ordered the registrar general of the Calcutta HC to relieve justice Karnan of his duties.
The courts have "no power to enforce punishment against a sitting Judge of the High Court", Justice CS Karnan has said in response to a contempt notice by the Supreme Court for approaching the Prime Minister with a list of judges he considers corrupt.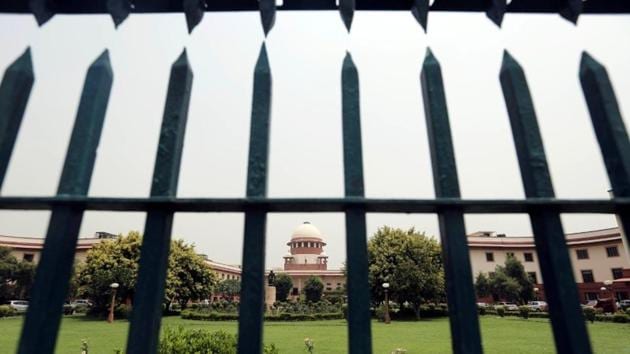 On February 8, a seven-judge Supreme Court bench headed by Chief Justice JS Khehar had ordered the registrar general of the Calcutta HC to relieve Karnan of his duties. Justice Karnan was also asked to appear before the bench on February 13 to face contempt charges.
In a letter to the registrar general of the Supreme Court on Friday, a copy of which is available with HT, Karnan wrote: "This said order does not conform to logic, therefore is not suitable for execution. The characteristic of this order clearly shows the upper caste judges are taking law into their hands and misusing their judicial power by operating the same against a SC/ST Judge with mala fide intention of getting rid of him. Therefore, the suo motu contempt order dated 08.02.2017 is not sustainable under law."
He also pointed to the instance from last year where he attempted to file a case against Chief Justice JS Khehar under the SC/ST Act and requested that the contempt case against him be heard after Khehar retired.
Justice Karnan has invoked his identity as a Dalit at a time when there isn't a single judge from the SC or ST communities in the Supreme Court. The last Dalit Supreme Court judge was former Chief Justice KG Balakrishnan, who retired on May 11, 2010.
Justice Karnan's letter went on to state: "I have given a recent allegation that there were 20 corrupt judges in the Madras High Court and the Hon'ble Justice S Kishan Kaul is No. 1 accused. Even this accusation was ignored although my complaint is still on file. It is observed that the 7 judges mentioned above are all out for a contempt case against me, presumably to clear the path for Justice Mr. S K Kaul's elevation (to the Supreme Court)."
"The Suo Motu contempt order against me a Dalit judge and restraining my judicial and administrative assignment is unethical and goes against the SC/ST Atrocities Act. It is certainly a national issue and a wise decision would be to refer the issue to the House of Parliament."
Confirming the authenticity of the letter, Karnan told HT over phone from Kolkata, "Yes, it is true that the letter was written by me. And I don't think there is anything more to elaborate on the matter right now."
When requested for an interview, the judge who is set to retire in a few months, said, "I shall speak my mind very soon. I will answer all questions."
Attorney general Mukul Rohatgi had termed Karnan's allegations disparaging. Rohatgi had said the top court must deal with the sitting judge sternly so that a message was sent across to citizens that judiciary did not dither from acting against one of its own. He had also said the public communications by Karnan were scurrilous and slanderous.
Karnan has gone incommunicado after his defiant letter. "He has isolated himself from the outside world and is refusing to meet anybody," Supreme Court lawyer Mathews Nedumpara told HT. Nedumpara, who is the president of the National Lawyers' Campaign for Judicial Transparency, said a delegation from his organisation had been trying without success to meet Karnan since the contempt order was issued.
Nedumpara said, "Justice Karnan has been discriminated against and socially isolated by the legal fraternity. This has sent him into extreme depression. During a phone conversation with me he also said that he is facing financial constraints because of which he is not able to travel to Delhi and hire a high-profile lawyer. We offered to represent him pro bono but he refused."
Karnan, who was appointed to the Madras HC in 2009, has been at loggerheads with his fellow judges ever since 2011 when he accused them of discriminating him because he was Dalit.
In 2015, he accused then Chief Justice of the Madras high court SK Kaul of harassing him because he was a Dalit and belittling him by giving him "insignificant and dummy" portfolios while his juniors were given high profile matters.
This escalated further when he accused Kaul of corruption in February 2016. When the Supreme Court transferred him that same month, he surprised everybody by issuing a stay on his own transfer order. When a two-judge bench of the SC comprising JS Khehar and R Banumathi lifted his stay order, he ordered the Chennai police commissioner to book a case against the two judges under the SC/ST (atrocities) Act. He finally backed down and took charge at the Calcutta HC after a closed-door meeting with then CJI TS Thakur.
After remaining silent for a year, he once against raised the banner of revolt by writing letters to the Prime Minister.