Rotomac promoter Vikram Kothari, his son arrested by CBI in bank loan default case
Updated on Feb 22, 2018 11:18 PM IST
A consortium of seven banks had extended multi-crore credits to the Kanpur-based firm, Rotomac, and its related companies from 2008 onwards. Vikram Kothari is the chairman and managing director of Rotomac.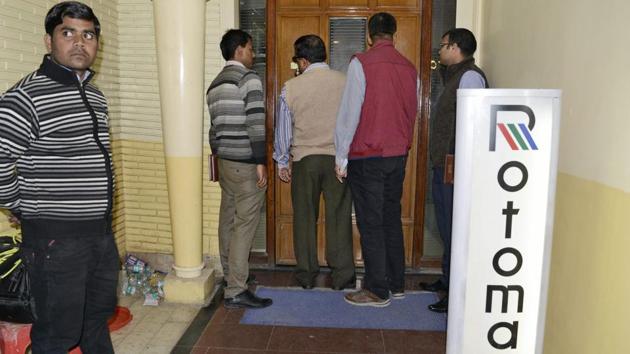 The Central Bureau of Investigation on Thursday arrested Rotomac promoter Vikram Kothari and his son Rahul Kothari on charges of cheating a consortium of seven banks by siphoning off bank loans to the tune Rs 2,919 crore.
"Both the accused were not cooperating with the investigators and were evasive in their replies during questioning which necessitated their custodial interrogation," said a CBI spokesperson.
The arrests came after the Kotharis were questioned for the fourth consecutive day on Thursday following searches at their residences and office premises in Kanpur.
The CBI had registered an FIR in the case on the basis of a complaint received from the Bank of Baroda, which was part of the consortium, that alleged misappropriation of funds and violation of Fema guidelines.
The banks had claimed that their total outstanding dues, including interest, stood at Rs 3,695 crore.
The agency had named Rotomac Global Private Ltd, its directors Vikram Kothari, his wife Sadhana Kothari and son Rahul Kothari, and unknown bank officials as accused in the case.
The Enforcement Directorate is probing the money laundering allegations against the Kotharis. The Income Tax Department has attached four properties of Kothari -- three in Kanpur and one in Ahmedabad, Gujarat.
The Bank of Baroda had said in its complaint it had discovered that offices of Rotomac's overseas suppliers and buyers in Hong Kong, Dubai and Sharjah were either closed or operating virtually. This prompted the state-owned bank to complain to the CBI that the company's promoters were carrying out fake mercantile trade.
The case comes on the heels of a Rs 11,400-crore alleged fraud in Punjab National Bank (PNB) in which jeweller Nirav Modi and his uncle Mehul Choksi are accused.
Meanwhile, the Institute of Chartered Accountants of India (ICAI) chairperson said they will probe if the chartered accountants (CAs) associated with the Rotomac group followed
standard norms.
"Action will be taken if the CAs are found to be involved in any irregularities," chairman of the Central India Regional Council of ICAI (CIRC-ICAI) Deep Kumar Misra said.
Personalise your news feed. Follow trending topics