Small plane on test flight crashes in Mumbai, 5 killed including a pedestrian
The plane crashed into a construction site in the Mumbai suburb of Ghatkopar after taking off from the Juhu aerodrome.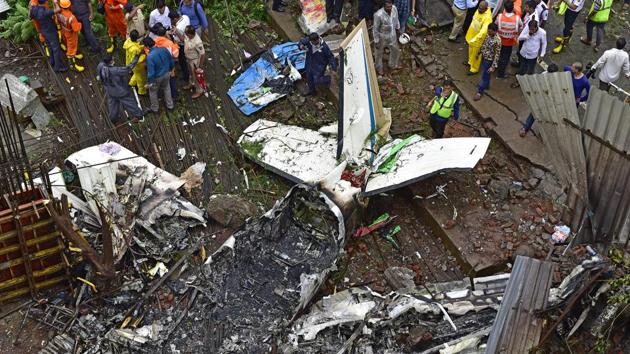 Updated on Jun 28, 2018 11:57 PM IST
Hindustan Times, Mumbai |
Neha LM Tripathi
A small aircraft crashed in a crowded Mumbai neighbourhood on Thursday afternoon, killing five people, including four crew members and a pedestrian.
The plane was bought by Mumbai-based UY Aviation, which runs chartered flights, in 2015 from the Uttar Pradesh government and Thursday's was its first test flight after repairs. Officials from Juhu aerodrome, where it had been undergoing repairs, said it was in a poor condition when it was brought to Mumbai, where it was being repaired by Indamer Aviation Pvt. Ltd.
The 12-seater Beechcraft King Air C90 twin-turboprop aircraft had taken off from Juhu aerodrome at around 12.20 pm and crashed into a construction site in the Ghatkopar area at 1:11 pm, four miles away from the aerodrome. The pedestrian, who was walking on the road outside the construction site, was charred to death after getting hit by aircraft parts and flaming fuel. Two labourers working at the location were injured. According to the ATC, the aircraft had flown north for some 80 miles, near Daman on the Maharashtra-Gujarat border, before turning south towards Mumbai. ATC officials said the flight was observed on the radar till it crashed.
Juhu airport officials with knowledge of the matter said the aircraft was on its first flight after repairs that started in 2015. "The aircraft was in an extremely poor condition when it was brought by the owner. Crores of rupees were spent in changing the aircraft parts, due to which it was under major maintenance and repair work since 2015. Before the aircraft could start taxiing, officials offered traditional prayers in the morning," one official said.
Read | Close shave: Workers were out for lunch when plane crashed at Ghatkopar construction site
A senior Airport Authority of India official described the last moments of the flight. At one point, the pilot took a planned deviation but at 400 feet of height. ATC officials attempted to contact the pilot but they failed. "The Mumbai fire brigade and Ghatkopar and Santacruz police stations were then alerted about it," an official said.
Avation experts questioned the test flight's path through densely-populated neighbourhoods and on a day when the weather was rainy. Former air force pilot and aviation expert Vipul Saxena said, "I am surprised that the test flight was cleared when there were light rains. I hope that the DGCA (directorate general of civil aviation) will conduct a detailed enquiry and not conclude it is an Act of God."
Mohan Ranganathan, an aviation safety consultant, said, "Tests flights can take off only when visibility is at least 5km…"
An official at UY Aviation Pvt. Ltd said, "We cannot say anything as of now. DGCA is investigating the matter. It is very unfortunate as everything was ok with the aircraft but the incident took place while landing."
News agencies said the UP government decided to sell the aircraft after an accident.
The aircraft was being flown by pilot Pardeep Singh Rajput, a resident of Delhi, co- pilot Marya Zuberi, accompanied by aircraft maintenance engineer (AME) Surabhi Gupta and technician Manish Kumar Pandey.
.
Close Story
Personalise your news feed. Follow trending topics