Close shave: Workers were out for lunch when plane crashed at Ghatkopar construction site
An eyewitness said the pilot seemed to be looking for an empty plot to land before the chartered plane crashed into the construction site in Mumbai's Ghatkpopar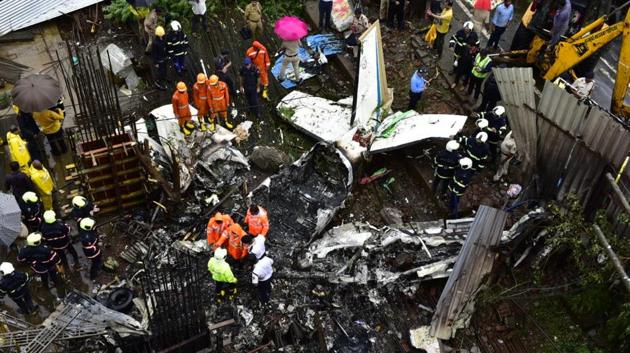 Updated on Jun 28, 2018 07:06 PM IST
Hindustan Times |
, Mumbai
Yesha Kotak
Residents of Ghatkopar (west), where a chartered plane crashed on Thursday afternoon, said they saw the plane coming down and were scared it would crash into their buildings.
The aircraft finally crashed into a construction site at Old Malik Estate, Jeev Daya Lane, near a telephone exchange, killing four people on board as well as a pedestrian who was walking by.
Officials at the construction site said the death toll would have been far higher had the plane crashed any earlier. The aircraft crashed around 1.15 pm, when the workers had stepped out for lunch. Work was expected to restart only at 3pm. "The lives of around 30 workers were saved because it was lunchtime," said Jignesh Patel, a site official.
Anant Kandhor, a businessman who lives half a kilometre away, said he suspected something was amiss when he saw the plane flying considerably lower than other aircraft. "Then it went past my balcony, and it was so close I thought it would crash into my building."
"The plane circled low over our locality and then crashed into the barricades around the construction site and a tree," said Haribhai Patel, resident of a building near the crash site. "It looked like the pilot was looking for an empty plot to land. He may not have realised it was a construction site."
At least 250 students were attending classes in a management institute just behind the site when the aircraft crashed.
"The building has been under construction for the past five years. It had not been getting clearance because of height limitations as this a flying zone. They got the clearance only recently," said Naina Gala, a homemaker who lives in the neighbourhood.
Member of Parliament Kirit Somaiya, who was at the site of the crash, said: "The passerby lost his life as parts of the plane hit him."
Babasaheb Umap, who lives in the locality, said: "The man was walking on the road when the plane came crashing down. It hit him. And it was leaking fuel as it crashed. Before we could do anything, the fuel caught fire."
Close Story
Personalise your news feed. Follow trending topics