China trying to change status quo, more Doklam-like incidents likely: Army chief
Press Trust of India, Pune |
Press Trust of India
Aug 27, 2017 07:52 AM IST
Army Chief General Bipin Rawat said Indian Army keeps insisting that both sides should return to the pre-June 16 positions (before the standoff began), but no resolution has been found yet.
China is attempting to "change the status quo" on its border with India and incidents like the ongoing stand-off in the Doklam area are likely to "increase" in future, Army Chief General Bipin Rawat said on Saturday.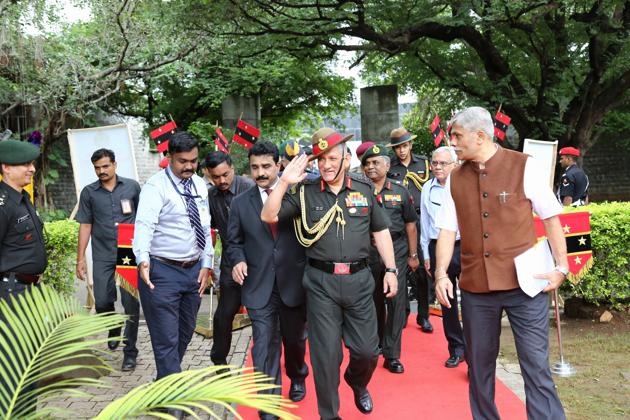 "The recent stand-off in the Doklam plateau by the Chinese side attempting to change the status quo are issues which we need to be wary about, and I think such kind of incidents are likely to increase in the future," Rawat said.
He was delivering the General BC Joshi Memorial Lecture on 'India's Challenges in the Current Geo-Strategic Construct' organised by the Department of Defence and Strategic Studies of Savitribai Phule Pune University here this evening.
"Pockets of dispute and contested claims to the territory continue to exist. These are due to differing perceptions on the alignments of the Line of Actual Control (LAC).
"Transgressions across Line of Actual Control do happen and sometimes they do lead to some kind of misunderstanding between the forward troops...however, we do have joint mechanisms in place to address such situations," said Rawat.
He said that during the flag meetings with Chinese counterparts, the Indian Army keeps insisting that both sides should return to the pre-June 16 positions (before the stand- off began), but no resolution has been found yet.
"Now it is happening at the diplomatic and political level, as it needs to be resolved diplomatically and through political initiatives," he said.
Chinese armed forces have made significant progress in capabilities for mobilisation, application and sustenance of operations, particularly in the Tibet autonomous region of China, he noted.
"This is due to the development of force infrastructure of military significance. Their force reorganisation along with developing capabilities in space and network-centric warfare is likely to provide them greater synergy in force application," Rawat said.
Later, speaking to reporters and explaining his statement that incidents like Doklam are likely to "increase", Rawat said, "We should not be complacent. Let us say that this stand-off is resolved, but our troops should not feel that it can not happen again in different sector.
"It is always better to be prepared and alert than think that this will not happen again. So my message to troops is that do not let your guard down," the Army Chief added.
China continues to enhance its influence in the regional security environment, he said.
"It is doing so by increasing defence and economic partnerships in the neighbourhood, especially in Pakistan, Maldives, Sri Lanka and Myanmar. The China-Pakistan Economic Corridor (CPEC) passing through Pakistan-occupied Kashmir (PoK) challenges India's sovereignty," he stated.
Confirmation for annual joint military exercises with China is still awaited this year, he said.
"We have been doing the exercise every year. One year our team goes to China and on the second year, their team comes to us. While this time the exercise is planned in October, it is not being confirmed (from their side) yet, whether it will take place or not," he said.
Asked if the ongoing stand-off was the reason for this, Rawat said, "It could be, but we are not sure."
Rawat slammed Pakistan for waging a proxy war in Jammu & Kashmir and said the increasing presence of transnational actors with fundamental ideologies in that country is a matter of grave concern.
"Pakistan's unabated reliance and support to Jihadi groups have serious ramifications. This can lead to the possibility of Pakistan being a conduit for the eastward spread of fundamentalist and the Islamic ideology. This lends a complex dimension to the threat not only for us, but also for other countries of South and East Asia, including China," Rawat said.
The Army Chief refused to comment on Lt Col Prasad Purohit, who recently got bail in the 2008 Malegaon blast case, saying the issue is before the courts.