BJP man in Kerala sets up Christian helpline to fight 'love jihad'
Jul 06, 2017 06:18 PM IST
A Christian member of the BJP is copying a local Hindu Helpline that has been accused of illegal or unethical behaviour.
A Christian man is starting his own version of the Sangh Parivar's Hindu Helpline to stop alleged incidents of 'love jihad', describing it is an attempt to counter secret plots to convert Christian girls to Islam.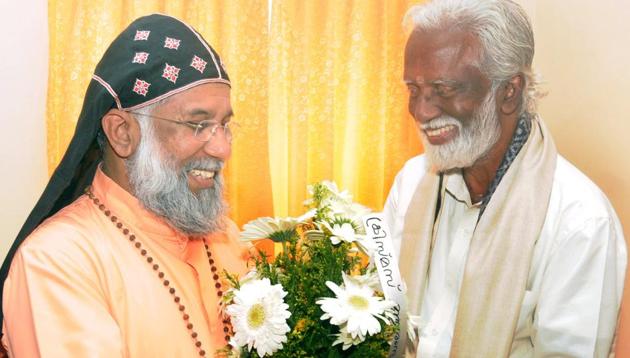 Renjith Abraham Thomas, who is a leader of the BJP's minority religions wing, the Minority Morcha, said he had received encouragement from a wide array of Christians and others. Jimmy Poochakkatt, a spokesman of the Syro-Malabar Church, said he was aware of the formation of the Christian Helpline but declined to comment on it.
Stay tuned with breaking news on HT Channel on Facebook.
Join Now
The renewed attention to 'love jihad' comes within weeks of an unusual and communally-charged court case in Kerala. On May 24, the state High Court annulled a wedding between Shefin Jahan, a Muslim man, and Hadiya, a formerly Hindu woman who converted to Islam. The court said that Hadiya (previously called Akhila) could not be married without the "active involvement" of her parents. It also ordered the police to conduct a probe into suspected conversions of Hindu women by groups linked to the Islamic State.
The Hindu Helpline in Ernakulam, Kerala has been the subject of allegations of illegal or unethical behaviour. In 2015, a widely cited investigation by the news sites Cobrapost and Gulail found it had coerced testimony from women, forcibly drugged some of them, and sought deliberately to "create a true fear in the society, about Muslims," as one member of the helpline service was quoted saying.
Thomas intends to open his Christian Helpline in Ernakulam as well, and said members of the Hindu Helpline have pledged their help. Asked to comment on the allegations against it, Thomas said that there have been no formal charges or complaints.
He plans for the Christian Helpline to recruit volunteers to keep in touch with the Christian community, which will supposedly help identify victims of 'love jihad'. Once identified, girls and boys would be given counselling, and their families would be provided legal help.
Thomas said that he announced his plan on social media to a high level of support. "We are flooded with inquires," he said. "We have the backing and blessing of all major denominations."
The BJP has been trying to cultivate Kerala's Christian community, which makes up 18% of the state's population. Amit Shah visited Kerala and met with bishops and cardinals earlier this month. "Sangh Parivar is trying desperately to widen its base in the state," said CPI(M) leader EP Jayarajan. "But all its attempts failed miserably. This is one such, but people of the state will realise its designs."
Thomas said he had legitimate evidence of the occurrence of love jihad. "We have got definite information that some sleeper cells are active in Malappuram and Kasargode districts to trap girls belonging to other communities. Students of medical and nursing colleges are their main target." Thomas cited as support the disappearance of 22 Kerala men who allegedly joined fundamentalist forces abroad. Some of the 22 have been reported to be converts from other religions.
"We are not against anyone," Thomas said. "But at the same time we have to protect the interest of our community. We don't want export of human bombs from here. If the community is little alert, we can avert such situations."