Citizenship Amendment Bill: Protests against Amit Shah's Mizoram visit withdrawn
A delegation of the NGO's will meet the Home Minister in Aizawl during his visit and is likely to reiterate their opposition to Citizenship (Amendment) Bill, but they won't protest as planned earlier.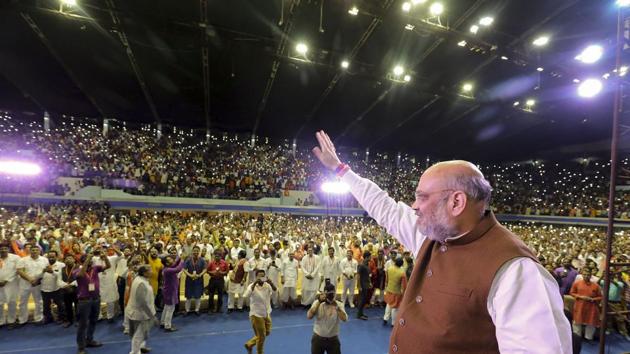 Updated on Oct 04, 2019 11:11 PM IST
Hindustan Times, Guwahati | By Sadiq Naqvi
The Mizoram civil society organisations have withdrawn their planned protest against the visit of Union Home Minister Amit Shah on October 5 after appeals from the state government and the Bharatiya Janata Party. A delegation of the NGO's will meet the Home Minister in Aizawl and is likely to reiterate their opposition to Citizenship (Amendment) Bill.
"Yesterday, we had a meeting with top officials of the state government including Chief Minister Zoramthanga. They told us that since it was Shah's first visit to Mizoram as the home minister, we should reconsider protesting. We have decided to cancel the protest plan," said Lalhmachhuana, the general secretary of the umbrella body of the Mizoram NGOs including the Central Young Mizo Association and the Mizo Zirlai Pawl.
According to a spokesperson in Chief Minister Zoramthanga's office, Home Minister Shah will inaugurate the Northeast Handloom Expo after his arrival on Saturday morning before meeting the chief minister and civil society representatives.
Chief ministers of Mizoram, Meghalaya and Nagaland had expressed reservations about the CAB last month in a North East Democratic Alliance Meeting attended by Amit Shah in Guwahati.
JV Hluna, the president of the BJP's state unit said he was happy that NGOs have relented. "Home Minister is likely to discuss with the civil society groups, how the interests of the Northeast states will be protected when CAB is brought," said Hluna.
"CAB will precede NRC; so refugees need not worry," Shah reportedly said during a recent visit to Kolkata reiterating the Centre's commitment to bring the legislation which triggered massive protests in the Northeast.
The contentious legislation seeks to fast track Indian citizenship to Hindus, Sikhs, Buddhists, Parsis, Christians and Jains from Bangladesh, Pakistan and Afghanistan who entered India till December 31, 2014.
Lalhmachhuana said the NGOs will apprise Shah of the reasons for opposing CAB. "It would pose a threat to the Mizos as illegal Chakma immigrants will get citizenship," he said.
Chakmas mostly inhabit the Chakma Autonomous Council Areas in South Mizoram, bordering the Chittagong Hill Tracts, an area which local Mizos say is swamped with illegal immigrants, whose population is not estimated.
The civil society group said it will also take up the issue of Bru refugees in Tripura with Shah. Many Bru refugees refuse to come back to Mizoram despite a 2018 agreement.
Close Story