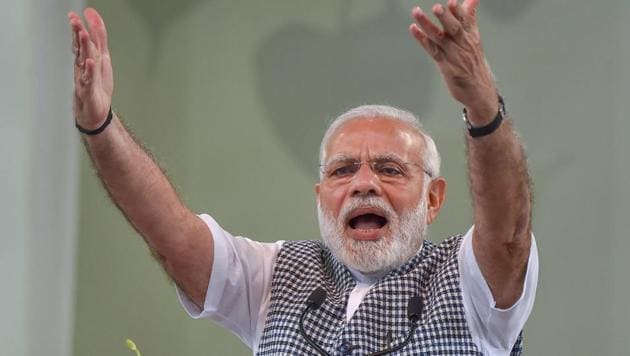 Congress' family politics blocked development in Karnataka, says Modi
Prime Minister Narendra Modi targeted the ruling Congress in Karnataka on the corruption and law and order fronts, while providing a final push to the BJP's campaign ahead of assembly elections on May 12.
UPDATED ON MAY 01, 2018 07:08 PM IST
Prime Minister Narendra Modi on Tuesday lamented that development in Karnataka has been blocked by the ruling Congress due to its obsession with family politics.
"Where there is Congress, all roads that lead to development are blocked. There is only family politics, corruption and lack of harmony," Modi told a Bharatiya Janata Party (BJP) rally in Santhemarahalli village, about 170 km south of Bengaluru.
Launching the BJP's election campaign in the district for the upcoming assembly election, Modi addressed hundreds of people, including party cadres. "We hear in Delhi that there is a BJP wave in Karnataka. But as I see it, it's not just a wave but a storm," thundered Modi.
The Prime Minister's 40-minute speech in Hindi was simultaneously translated into Kannada, a first since his visits to the southern state over the past few months, so as to connect with the people in the local language.
Law and order in Karnataka has collapsed under Congress rule, Modi said. "When the Lokayukta in the state is not safe, how can one expect the common people to be safe under the Congress government?"
Karnataka's anti-graft ombudsman Justice P Vishwanatha Shetty was stabbed at his office by a man in the state capital on March 7.
The Congress has also failed in keeping its promises about electrifying villages, Modi said, adding that April 28, 2018 would be remembered by the country forever when 18,000 Indian villages were electrified.
"(Former Prime Minister) Manmohan Singh said Indian villages would be electrified by 2009, but in four years they could electrify only two villages. The Congress has nothing but contempt for the poor," alleged Modi.
The Centre will now work towards electrifying each household in the country, he added.
Modi also challenged Congress President Rahul Gandhi to speak for 15 minutes on the achievements of his party's government in Karnataka.
"The Congress President had challenged me that if he speaks for 15 minutes in Parliament, I will not be able to take it. I ask him (Gandhi) to talk about the achievements of Congress government in Karnataka, without a paper in your hand."
Modi also attacked the Congress for indulging in "family politics" by allowing a party's leaders kith and kin to contest in the assembly elections.
"For the chief minister (Siddaramaiah) the rule is '2+1', where he will contest from two seats and has given his old seat (Varuna in Mysuru district) to his son (Yathindra) and for the other ministers (in the state cabinet), the rule seems to be '1+1', allowing their relatives to fight polls."
Fearing defeat, Siddaramaiah was changing his assembly constituencies and contesting from two seats, Modi alleged.
Siddaramaiah has filed nominations for the May 12 election from Chamundeshwari in Mysuru district and Badami in Bagalkot district, while his son Yathindra is contesting from Varuna in Mysuru district.
Though Siddaramaiah had won from Varuna twice since the 2008 Assembly elections, he shifted to Chamundeshwari, making way for his son Yathindra to contest from his home constituency.
"For the Congress, it has always been about family politics. But for us (BJP), it is about people's politics. People of the state will decide which kind of politics they will choose (in the upcoming election)," Modi said.
He appealed to the people to vote for politics of honesty.
"Let this vote strengthen our commitment to end corruption. This vote of yours will not just choose your MLA, but will decide the future of the state.
"(BJP's chief ministerial candidate) Yeddyurappa is the hope for Karnataka and he will soon be chosen as the chief minister," asserted Modi.
The BJP wants to create a safe and secure Karnataka on the path of development, he added.
Modi will also address rallies on Tuesday in Udupi and Belagavi districts.
Close