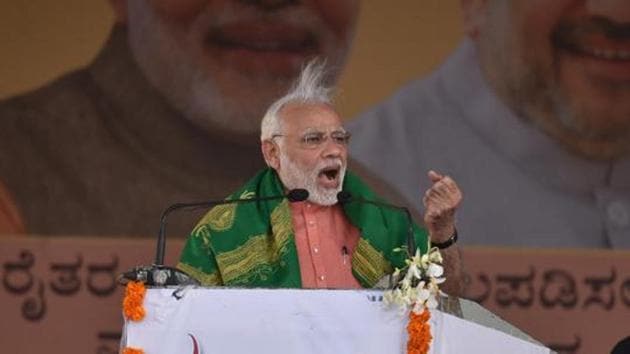 With 15 rallies in 5 days, PM Modi to lead BJP's Karnataka election campaign
PM Narendra Modi will be in poll-bound Karnataka on May 1, 3, 5, 7 and 8, addressing three rallies a day.
UPDATED ON MAY 01, 2018 10:20 AM IST
Starting Tuesday, Prime Minister Narendra Modi will address 15 rallies in five days across Karnataka ahead of assembly elections on May 12, underlining the importance of the poll outcome to the Bharatiya Janata Party (BJP) in power at the Centre.
Modi will be in Karnataka on May 1, 3, 5, 7 and 8, addressing three rallies a day.
Modi will address an election rally at Santhemarahalli in Chamarajanagar, deep in southern Karnataka, on Tuesday around 11 am. He will then take a chopper to the coastal district of Udupi to address a meet at 3 pm and then to North Karnataka where he will address another rally at Chikkodi in Belgavi district at 6 pm, before flying back later in the night to Delhi.
BJP spokesperson S Prakash told HT, "PM Modi's entry is like (Mahendra Singh) Dhoni going into bat in the crucial few last overs of a match. His mere presence will make a difference. Given his huge personal appeal, we fully expect to get a boost to our campaign."
With most pre-poll surveys indicating either a hung assembly or a slim majority for the ruling Congress in the state, the BJP is be hoping that the Prime Minister's popularity and charisma will help it get closer to the halfway mark of 113 seats in the 224-member assembly.
The outcome of the Karnataka election is key for two reasons. One, Karnataka is now the only second large state (apart from Punjab) where the Congress is in power and a win there could see a resurgence in the party. Second, the results of the election could likely set the tone for the other upcoming assembly contests in Rajasthan and Madhya Pradesh, before the general elections in 2019.
Modi has not been to poll-bound Karnataka in the last two months. Modi was in the state last on February 27 when he addressed an election rally in Davangere. The Congress had taunted the BJP over the PM's absence from the election cycle, alleging that he was avoiding the state fearing defeat in the polls. In contrast, Congress president Rahul Gandhi has already toured different parts of the state extensively.
Close