Congress MP Syed Naseer Hussain calls Union Budget 'election oriented'
Feb 02, 2023 10:32 AM IST
Speaking to HT, Congress MP Syed Naseer Hussain, slammed the budget calling it 'election oriented' and also spoke on Rahul Gandhi and the Bharat Jodo Yatra
Congress has expressed its disappointment after the union finance minister Nirmala Sitharaman announced the Union Budget 2023 on Wednesday after it failed to address key issues.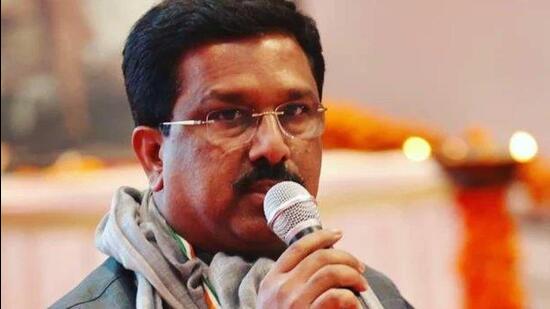 Dubbing the budget as 'Naam Bade Aur Darshan Chhote Budget' (big on announcements and short on delivery), Congress said issues pertaining to unemployment, inflation and price rise were not addressed.
The party alleged this was Prime Minister Narendra Modi's strategy of headline management translating to "over promise, under deliver" and that the actual expenditures were substantially lower than the budget announced last year.
Also Read:'Modernising before selling': CM Baghel questions budget allocation to Railways
Speaking to HT, Congress MP Syed Naseer Hussain, slammed the budget calling it 'election oriented' and also spoke on Rahul Gandhi and the Bharat Jodo Yatra.
Edited Excerpts:
What is your opinion on the budget?
Congress and the opposition parties have been raising issues of unemployment, poverty, inflation, falling of the rupee, the MSME sector, and MSP to farmers and these issues have not been addressed. We have been telling them of the 30 lakh vacancies in government positions in central and states, that has not been addressed. There is no assurance of MSP to farmers, MSME sector how will you boost? What is the roadmap for the recovery of the economy, 23 crores of people who were lifted to above Poverty Line (APL), they have been again gone back to Below Poverty Line during COVID and under this regime, so what is your vision for them and how will you boost agriculture and how will you strengthen the Rupee against the dollar? And this ₹7-lakh bracket for the middle-class section is okay and we welcome it but we should also again see it as an election-oriented budget because they are trying to target the middle class and that's all! So, the whole debate about unemployment about poverty about GST inflation, falling of the rupee, petrol diesel costs, these have not been addressed in the budget at all.
What is the biggest issue for you and the Congress this Budget session?
See all these issues we have been raising, we will raise again but the biggest issue is unemployment, farmers' MSP issue and inflation.
What is on the agenda for the Congress in Parliament?
The strategy committee meeting for the whole session will be held tomorrow and once we list out all the issues in the meeting, I will be in a position to tell you what has actually happened. At 9:15am we have the strategy committee meeting and at 10am, we have the all-opposition party meeting.
Will the opposition let the house run?
That will only be decided after the meeting tomorrow.
We saw Rahul Gandhi coming straight from Bharat Jodo to Parliament. Is there a change you noticed in him after this long journey?
After such a long yatra, obviously, there are a lot of things that a person realizes, experiences, embodies and learns. He has always been active in Parliament and he has been raising the issues of people both in Parliament and outside of it and I think for these points, he has been sincere and committed.
There are some concerns about opposition unity as some didn't turn up in Srinagar. What do you have to say on that?
Some did reach Srinagar and some couldn't because of the snow and climatic conditions as there were no flights for that particular day.
But would you say it raises concerns over opposition unity?
No, nothing like that. See opposition is united, UPA is united and there are parties outside the UPA, they are also united on the issues within and outside Parliament.