Cow smuggling charge against Pehlu Khan's aides, 2 others
Updated on Feb 01, 2018 05:41 PM IST
Police in Rajasthan's Alwar have filed a chargesheet that says Pehlu Khan's aides Azmat and Rafeeq could not produce a receipt obtained from cattle market or a transport permit for the cows they were transporting.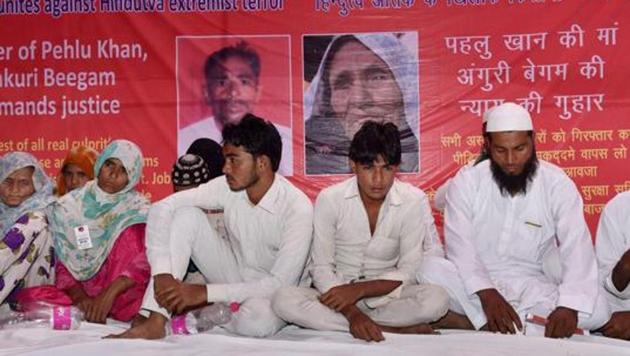 Police in Rajasthan's Alwar have charged two men travelling with Pehlu Khan, who was lynched by a mob last year, with cow smuggling, saying they didn't have the permit to take the cattle out of Rajasthan.
Azmat and Rafeeq could not produce a ravanna (receipt obtained from cattle market) or the transport permit for the four cows, including two calves, they were transporting, says the charge sheet submitted in a local court on January 24. Similar charges have been brought against the pick-up owner and his driver son. (TImeline)
"The JMC (Jaipur municipal corporation) must be issuing the permits. I have never issued any," Amer sub-divisional officer Baldev Ram Bhojak said.
Bhojak was the issuing authority for the permits at the Jaipur cattle market from where the animals were bought.
Khan was taking the animals to his home in Nuh in neighbouring Haryana when he was attacked by alleged cow vigilantes in Alwar's Behror area on April 1. He died in a hospital two days later.
His sons, travelling with him in a separate vehicle, were also injured in the attack. Police are investigating if the three were also involved in cow smuggling.
Under the Rajasthan bovine animal act, a permit from the district collector or an authorised officer is needed to take cattle out of the state.
When police checked the cattle market records, they found that Azmat had purchased the animals. But in the absence of the permit, the two, along with the driver Arjun Lal Yadav, have been charged with smuggling the animals for slaughter, the charge sheet says.
Arjun's father and the pick-up owner Jagdish Prasad, too, is accused of animal smuggling.
Police had charged nine persons for the attack but have since given a clean chit to six persons named by Khan.
Personalise your news feed. Follow trending topics