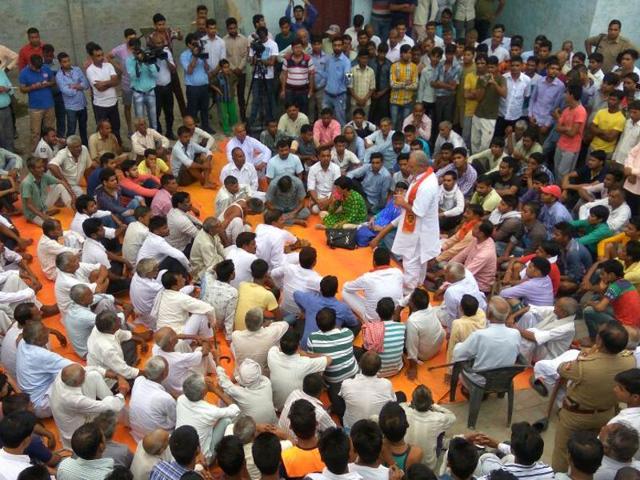 Book Ikhlaq's family for cow slaughter within 20 days: Kin of Dadri accused
Family members of those accused in the Dadri lynching case defied prohibitory orders on Monday to hold a mahapanchyat over the demand for an FIR against Mohammad Ikhlaq's kin over alleged cow slaughter.
UPDATED ON JUN 07, 2016 06:45 AM IST
Police must book Mohammad Ikhlaq's family for cow slaughter and drop murder charges against those accused of lynching him in 20 days, residents of Uttar Pradesh's Bisada village demanded on Monday, ratcheting up communal tensions before the state polls.
Defying prohibitory orders, more than 50 people attended the Bisada panchayat held in response to a forensic report that said the meat recovered from Ikhlaq's fridge after the murder was beef.
The report prompted family members of those accused of killing the 55-year-old man to justify the murder, saying Ikhaq's family broke the law and insulted Hindu sentiments by killing a calf.
The heightened communal passions came less than a year before state polls where the BJP is looking to dethrone the ruling Samajwadi Party.
"We want police to register an FIR against Ikhlaq's family for slaughtering and eating a cow and change the sections of FIR against the accused from murder to culpable homicide not amounting to murder," said Sanjay Rana, father of a suspect Vishal, formerly associated with the BJP.
Others demanded the government rescind the compensation given to Ikhlaq's family and threatened to call a mahapanchayat of 144 Rajput villages if their demands weren't met.
"We have full faith in judiciary and the law. If our children are being tried as criminals, family of Ikhlaq should also be treated like one," said Rana.
Read: Dadri lynching suspects' kin want cow slaughter case against Ikhlaq family
Ikhlaq's lynching last year triggered a nationwide debate on rising intolerance in the country with opposition parties saying the BJP was fanning communal passion across the country for electoral gains.
Members of the Shiv Sena also attended the panchayat and extended their support to families of the accused.
"It's a failure of law and order. The police don't listen to Hindus. If a person has slaughtered a cow, he or she should be put behind the bars. Law should be the same for everyone," said Mahesh Kumar Ahuja, a Sena leader from Ghaziabad.
The panchayat was held on a day a fast-track court deferred the framing of charges against the accused to June 10, amid demands that the sections under which they were booked be relaxed.
The mahapanchayat threat also brought back memories of the 2013 Muzaffarnagar riots – which preceded the general elections next year – where a similar gathering of Jat leaders allegedly precipitated the violence that killed 60 people.
On September 28, Ikhlaq and his younger son Danish were attacked by a mob of local residents at night in Bisada, 50 km from Delhi, after rumours spread that he slaughtered a cow and stored beef for eating.
Ikhlaq succumbed to his injuries while Danish survived with a fractured skull. Eighteen people, including three juveniles, were arrested on charges of murder and assault.
Since then, cow protection vigilante groups have mushroomed across the country, especially in BJP-ruled states, and beef has become a religiously sensitive topic. Last week, three cattle traders were thrashed allegedly by Hindu groups and two Muslim herdsmen were hanged in Jharkhand last year.
Cow slaughter and the consumption of beef are banned in several states but many groups call for a nationwide prohibition on beef eating and cattle trade, pointing out that Hindu scriptures describe the cow as the "mother" of civilisation.
Close