After Nikki Haley's comment, US says India, Pakistan should talk directly to each other
US state department says India and Pakistan should hold direct dialogue to reduce tensions.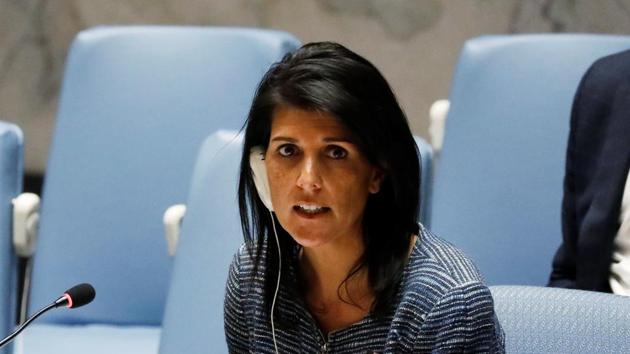 Updated on Apr 06, 2017 08:36 AM IST
Hindustan Times, Washington |
Yashwant Raj
The United States on Tuesday said India and Pakistan should resolve their differences through "direct dialogue", indicating continuity in its stated position, contrary to the shift suggested by its ambassador to UN, Nikki Haley.
The 45-year-old Haley surprised both Indians and Americans when at a news conference on Monday she said the US under President Donald Trump would like to "find its place" in efforts to de-escalate tensions between the two Asian neighbours.
"We encourage India and Pakistan to engage in direct dialogue aimed at reducing tensions," a US state department spokesperson said on Tuesday.
The normalisation of ties was vital to both the countries as well as the region. Closer regional economic ties could create jobs, lower inflation, and increase energy supply.
"We have and continue to encourage India and Pakistan to work together to resolve any differences," the spokesperson said.
Haley, who will be the UN security council president for the month of April, had said the US should be "proactive" in its efforts to de-escalate India-Pakistan tension and "we don't think we should wait till something happens". It wasn't clear then if that was the position of the Trump administration, as it marked a significant policy shift.
The US has long maintained, at the insistence of New Delhi, that India and Pakistan should settle their dispute bilaterally.
India has steadfastly opposed third party mediation and said so again on Tuesday, the day after Haley's remarks.
Addressing a news conference at the UN, Hailey had said, "It's absolutely right that this administration is concerned about the relationship between India and Pakistan and very much wants to see how we de-escalate any sort of conflict going forward.
"So I would expect that the administration is going to be in talks and try and find its place to be a part of that and we don't think we should wait till something happens..."
The suggestion was that the Trump administration could insert itself into the South Asian dispute or, at the very least, the US envoy to the UN was strongly advocating it should.
India shot down Hailey's suggestion, saying, "Government's position for bilateral redressal of all India-Pakistan issues in an environment free of terror and violence hasn't changed."
The US was not planning to seek a change either, as the state department spokesperson said, despite the remarks of the country's new ambassador to the UN who has not been afraid to take policy positions contrary to that of the president.
Was she taking a contrary position on India as well, then?
The Trump administration has let India know the president had no intention of involving himself or the US into the conflict as a mediator or a peace-maker, according to officials in New Delhi who spoke on condition of anonymity.
New Delhi first raised the issue with the new administration in January after Trump, then president-elect, was seen to be signalling a desire to mediate in a call with Pakistan's Prime Minister Nawaz Sharif.
"I am ready and willing to play any role that you want me to play to address and find solutions to the outstanding problems," Trump had said, according to a transcript released by Pakistan. "It will be an honor and I will personally do it."
New Delhi, which has been engaging the new administration in a series of meetings, was alarmed and checked. "We were told by those close to the administration the president was not interested," said an official.
And that remains the situation, as reiterated by the US on Tuesday.
Close Story
Personalise your news feed. Follow trending topics