Day after raids, Amnesty India says govt trying to silence it
Updated on Oct 26, 2018 06:29 PM IST
In a tweet, Amnesty India also said is clear that the government wants to instill fear among Civil Society Organisations.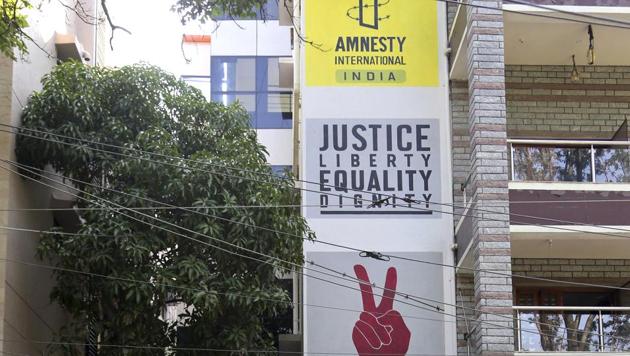 Amnesty India on Friday accused the government of following a "disturbing pattern of silencing organisations that question power", a day after its Bengaluru office was searched for 10 hours in connection with alleged violation of foreign direct investment guidelines.
The Enforcement Directorate, the investigating agency that probes financial crime, which searched Amnesty's office, said human rights organisation was denied permission under the Foreign Contribution (Regulation) Act, 2010 but decided to circumvent it by routing money through another organisation.
"It is clear that the government wants to instill fear among Civil Society Organisations. #CrackdownOnAmnesty," Amnesty tweeted.
The searches, which began at 2 pm, ended about 12 am on Friday, after which Amnesty put out a series of tweets clarifying its stand on the issue.
Amnesty said a group of officials from the agency raided its office, ordered employees to stay put and searched their desks. Employees were told to close their laptops and were not allowed to use their phones, Amnesty said, adding it fully cooperated.
"Government authorities are increasingly treating human rights organisations like criminal enterprises," Aakar Patel, executive director at Amnesty India, said in a statement later.
"As an organisation committed to the rule of law, our operations in India have always conformed with our national regulations. The principles of transparency and accountability are at the heart of our work," he said.
Prime Minister Narendra Modi-led government has tightened surveillance on non-profit organisations over the past four years, saying they act against India's interests. Thousands of foreign-funded groups have had licenses cancelled or suspended on charges such as misreporting of donations.
According to the ministry of home affairs, the government has cancelled the registration of nearly 15,000 NGOs under FCRA since 2014.
The government had cancelled the registration of Greenpeace India under the foreign contribution regulation act (FCRA) in 2015 accusing it of violating FCRA by mixing its foreign and domestic contributions. The NGO accused the Centre of trying to shut it down and said the government action was an attempt to silence campaigns.
"We could not agree more with the Prime Minister when he says that periods of repression, like during the Emergency, have left a stain on India's history. Sadly, those dark days are now casting a shadow over India again. Instead of protecting human rights, as it vowed to do, the government is now targeting the people who fight for them", Patel said.
(with agency inputs)