Declining levels in rivers, dams spark water crisis fears
Updated on Apr 29, 2019 07:12 AM IST
The CWC data also shows that, except the Indus, the Narmada, and the west-bound rivers of the south, the water level in all the river basins is less than the average of the last 10 years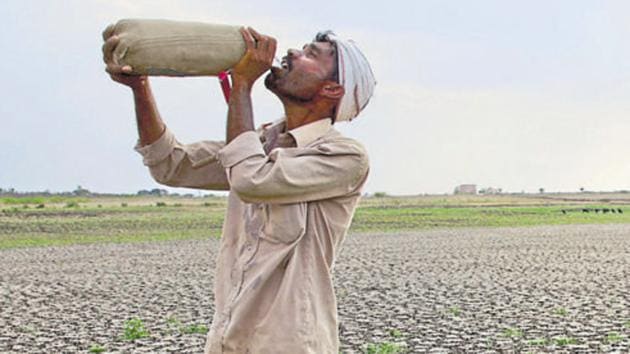 At a time when an acute heatwave has affected more than half the country, the water level in India's major reservoirs and river basins has fallen to 21% of its average for the last 10 years, pushing thousands of villages across western, central and southern India towards a possible water crisis.
According to data released by the Central Water Commission (CWC) on Friday, the water level in reservoirs in Maharashtra was 40% less than normal, in Gujarat - 29%, in Uttar Pradesh - 37%, in Andhra Pradesh - 84%, in Telangana - 28%, in Tamil Nadu - 19%, in Rajasthan - 6%, and 4% lower than normal in Chhattisgarh and Madhya Pradesh.
The CWC data also shows that, except the Indus, the Narmada, and the west-bound rivers of the south, the water level in all the river basins is less than the average of the last 10 years — the worst affected are Kutch, Tapi and Sabarmati in Gujarat; Godavari, Krishna and Cauvery in southern India, and the Mahanadi from Chhattisgarh to Odisha in eastern India. The CWC monitors 12 major river basins, and the average water level of the past 10 years is classified as "normal". When the water level in river basins and reservoirs is much below normal, it indicates the low availability of water for drinking, irrigation and livestock. This can also impact the agriculture output in states where farmers grow three crops a year.
Experts suggested the situation may be more worrying than the data suggests. "A large number of small dams in Maharashtra, Andhra Pradesh and Gujarat are almost dead. This data is not captured by CWC, which monitors only big reservoirs," said a former CWC chairperson.
According to the India Meteorological Department (IMD), the pre-monsoon rainfall from March to April — critical to agriculture in several parts of the country — has recorded a 27% deficit. An analysis by scientists at the Indian Institute of Technology, Gandhinagar, suggests that about half of the country is in the grip of a drought. "About 16% of the country's 50% population is facing 'extraordinary' or 'gruesome' drought," said the IIT's associate professor, Vimal Mishra, in a statement issued on April 24. He added that the worst is yet to come, with the severity of drought likely to intensify in May and June.
Mishra said that Andhra Pradesh, Bihar, Gujarat, Jharkhand, Karnataka, Maharashtra, parts of the north-east, Rajasthan, Tamil Nadu and Telangana are the worst hit by the present heat wave. "These states are home to 500 million people, almost 40% of the country's population," he said. The IMD declares a heatwave for a station if the temperature crosses 40 degrees Celsius for two consecutive days in the plains, 37 degrees Celsius in coastal areas, and 30 degrees Celsius in hilly terrain.
Two Gujarat government officials said that deficit rains last monsoon (27 percentage points below average) and almost no rainfall in the last 45 days have started taking toll on the arid parts of the state even as the summer is yet to peak. Rural parts of districts, mostly in west and north Gujarat, are staring at a drought-like situation with Kutch the worst-hit, one of the officials cited above said.
"I get fodder from distribution centres started by the government for ~2 per kg but getting water is a challenge now. We get drinking water from tankers, which now come twice a week," said Revabhai Rabari of Abari village in Kutch district. Jina Bharwad, who lives in outskirts of Bhuj city, said: "There is drinking water for us. But not much is available for our cattle. For the same reason, I have sent my all four animals to a government-run cattle home.'' Gujarat's biggest district spread across nearly 46,000 sq km, Kutch was proclaimed 'scarcity hit' by the state government last October, and the designation was extended for six months this January.
In Maharashtra, the Marathwada and Vidarbha region are facing a drought-like situation, according to the state government. Farmers such as 75-year-old Bhagwat Pawar, who has seen the 1972 drought that affected about 50 million people and killed over 100,000, described the ongoing drought as one of the worst.
"The impact of the drought will be felt after April 29, once all the phases of voting get over," said Ashok Tangade of Jagar Pratisthan, the NGO working with cane cutters in Beed district. "As of now, candidates are ensuring supply of water through tankers and camps for cattle."
In Madhya Pradesh, 119 urban local bodies (ULB) out of 378 and about 4,000 villages out of about 12,000 are facing a water shortage. Of the ULBs, 273 are getting water supply daily, while 99 are drawing water every other day, 14 urban bodies are getting water after an interval of two days, and ULBs after three days, government officials said.
"There are only 10 urban bodies which are getting water at the interval of two or three days. Since all the urban bodies are getting water through regular power supply or tankers, there is no water crisis in the state," principal secretary, urban administration, Sanjay Dubey, said.
"At present, there are only seven habitats where we are transporting water to people. We are monitoring the water supply daily and taking feedback from each and every affected village or panchayat. Hand-pump maintenance work has been outsourced in 170 of 313 blocks. Power of administrative approval for repair work of schemes up to ~20 lakh has been given to the district collector," said Sanjay Shukla, Madhya Pradesh's principal secretary, public health engineering. According to IMD, 2019 is an El Nino year — in the 135 years between 1880 and 2014, around 90% of all evolving El Nino years recorded below normal rainfall, and 65% experienced droughts, according to Skymet weather data. El Nino, little child in Spanish, refers to large-scale ocean-atmosphere climate interaction linked to a periodic warming in sea surface temperatures that negatively impacts the south-western monsoon.
Six of the worst droughts in the country since 1871 have been triggered by El Nino — the most recent being in 2009, when 58% of country's 514 meteorological districts received scanty rainfall. The last major El Nino event, which ended in 2016, lasted for two years and caused heatwaves all around the world and in India.
(With inputs from Surendra P Gangan in Mumbai, Hiral Dave in Ahmedabad, and Ranjan in Bhopal)