Delhi HC declines to halt Agnipath scheme, asks for Centre's reply
Aug 25, 2022 01:21 PM IST
The Agnipath scheme, announced on June 14, provides for the recruitment of youths in the defence forces between the ages of 17-and-a-half and 21 for only four years
The Delhi high court on Thursday declined to halt the Agnipath scheme of the union government and granted them time to file its reply to petitions challenging the defense recruitment scheme.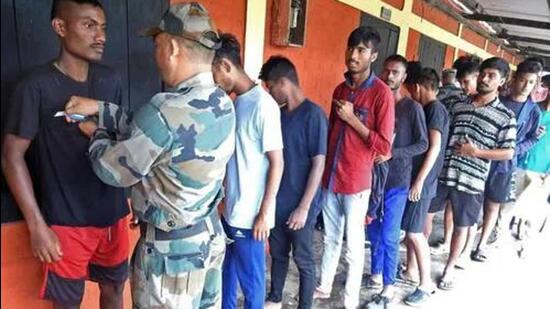 Giving four weeks to the Centre to file the response, a bench of Chief Justice Satish Chandra Sharma and Justice Subramonium Prasad said it would finally hear the matter, instead of passing an interim order.
"We will hear you finally. No interim order. We will decide the matter. We will not complicate it unnecessarily...We will decide it finally," the bench said.
Additional solicitor general Aishwariya Bhati, for the union government, said they will file a "consolidated" response for all the petitions.
The court, however, said since the batch of pleas pertain to issues concerning advertisement for recruitment for posts of soldier, airmen, sailor, the Centre must also file a detailed response in individual cases as well.
Also Read:Agnipath: 14 youngsters arrested for impersonating defence aspirants in Hisar
Bhati also apprised the court that the solicitor general Tushar Mehta was occupied in some other matter and will not argue on Thursday.
The matter will next be heard on October 19.
The Agnipath scheme, announced on June 14, provides for the recruitment of youths in the defence forces between the ages of 17-and-a-half and 21 for only four years with a provision to retain 25% of them for 15 more years.
Protests erupted in several states soon after the scheme was announced.
Later, the government extended the upper age limit to 23 years for recruitment under the scheme in 2022.
The apex court, on July 19, had transferred the petitions pertaining to the scheme to the Delhi high court.
On Thursday, the court was informed that apart from the transferred batch, about 7-8 other petitions are yet to be transferred.
One of the petitions filed through advocate Prashant Bhushan, has been moved by 20 candidates awaiting their enrollment as Airmen in Indian Air Force in Group "X" (except education instructor trade) and Group "Y" trades (except automobile technician, Indian Air Force (Security), Indian Air Force (Police), trades.