Delhi Police chief Alok Kumar Verma frontrunner in race to become CBI director
Updated on Jan 17, 2017 10:53 AM IST
Delhi Police commissioner Alok Kumar Verma, a 1979 batch Indian Police Service officer, has been selected the next director of the Central Bureau of Investigation (CBI) --- and a formal announcement is expected later on Monday, government sources said.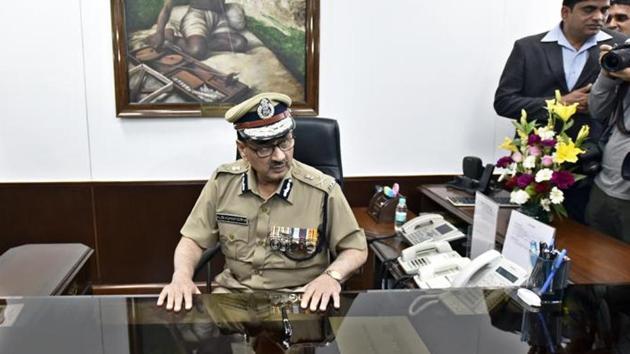 Delhi Police commissioner Alok Kumar Verma has emerged as the frontrunner for the post of Central Bureau of Investigation (CBI) director, government sources said. A formal announcement in this regard is expected soon.
A PMO source said Verma – a 1979-batch Indian Police Service (IPS) officer – was selected by a three-member committee comprising Prime Minister Narendra Modi, Chief Justice JS Khehar and Congress leader Mallikarjun Kharge. The Centre has reportedly briefed the attorney general, who will then inform the Supreme Court that Verma has been chosen for the post. At present, the matter is sub judice.
Verma is expected to take over by the end of this month.
The government had also placed the names of two other candidates, home ministry official RK Dutta and Maharashtra DGP SC Mathur, before the panel for consideration. Though Verma scored higher than them in terms of seniority as well as grading, Kharge gave a dissent note – saying he didn't get enough time to check the officers' credentials because the government had not shared their names in advance. He also said the panel had only a few names to choose from.
The three candidates were shortlisted from a list of 45 eligible IPS officers sent to the PMO.
Verma, hailing from the Arunachal Pradesh-Goa-Mizoram and Union Territory cadre, has been the Delhi Police chief for the last 11 months. He had previously served as the director general of Tihar Jail and the police chief of Mizoram.
The post of CBI director has been lying vacant for over a month, following Anil Sinha's retirement on December 2. Rakesh Asthana, an IPS officer from the Gujarat cadre, is acting as its interim director.
Verma served as the joint and special commissioner of the Delhi Police crime branch between August 2007 and December 2008. His tenure as the police chief of Delhi has been without any major controversies.
Senior police officers said though many Aam Aadmi Party MLAs were arrested under Verma, the ruling party did not accuse him of working for his political bosses. He has not been as vocal as his predecessor, BS Bassi, and is yet to give an interview as police commissioner. Also, he hardly ever uses his official Twitter handle.
The Delhi Police chief created a record of sorts when he successfully pushed for the promotion of over 26,000 officers in December last year. Most of them hadn't been promoted in over two decades.
Verma's appointment as the CBI director would be the 24th posting in his 36-year-old career. Though he is due to retire in July, the government may give him an extension.
Delhi Police officers say Verma does not believe in micromanagement, contending himself with meeting the top brass in the department instead.
Close Story
Personalise your news feed. Follow trending topics