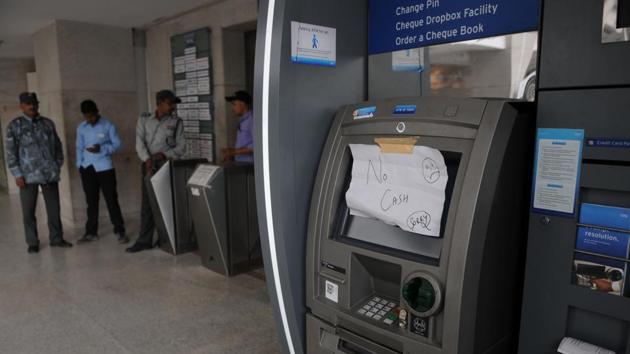 Demonetisation pain returns: One-fourth of ATMs across India running dry again
Even after three months of demonetization, the cash crunch continues. Many ATMs across the country are once again running dry after the Reserve Bank of India (RBI) increased the cash withdrawal limit for a single transaction to Rs 24,000
UPDATED ON FEB 08, 2017 08:32 AM IST
An estimated one-fourth of the ATMs across the country are running dry again with people withdrawing large amounts for sundry payments and purchases at the start of the month, bank officials said on Tuesday.
Lakhs of workers in unorganised sectors are still paid in cash, usually within the first week of the month. Tuesday's payday for an estimated 560 million factory workers could have also contributed to the cash shortage, the officials added.
The fresh cash shortage could fuel the debate over the efficacy of the move to withdraw high-value banknotes and leave the government open to a renewed attack by the opposition, which has been very critical of the demonetisation exercise.
Officials of bank and cash logistics companies, however, said the shortage will be over after February 10.
Last week, the Reserve Bank of India (RBI) allowed people to withdraw up to Rs 24,000 from ATMs in a single transaction, withdrawing a limit imposed during a severe crunch after the ban on 500 and 1000-rupee notes.
Read | Demonetisation: RBI may not relax cash withdrawal limit for 3 weeks to a month
"Typically, the salary cycle is on till about the 8th of any month... ATM functioning is near-normal and there has been no major problem, banks have ensured there is enough cash for ATMs," said Rituraj Sinha, president of the Cash Logistics Associations, an umbrella body of firms which manage the country's 2.2 lakh-odd cash-dispensing machines.
Though banking sources admitted that about 25-30% of the ATMs were short on cash, they said the overall situation was under control and far better than what it was in December and January, shortly after an estimated Rs 15.44 lakh crore was sucked out of the system.
Since then, the RBI has pumped in over Rs 10 lakh crore though the central bank indicated that the entire sum may not be replenished.
Around Rs 12,000 crore per day is being provided to the ATMs but the figure is still lower than around Rs 13,000 crore provided daily before the note ban.
"There is significant cash constraint even today and people especially those who are working in the unorganised sector are once again going through a lot of pain. Many ATMs still don't have cash," said CH Venkatachalam, general secretary of the All India Bank Employees' Association.
The union had planned a strike on February 7 but rescheduled it for February 28 in view of the factory payday.
"Our assessment is that the situation will be normal only around the month-end," said Soumya Kanti Ghosh, chief economic adviser of the SBI Group.
A private sector bank executive said the cash shortage was more pronounced in small towns and rural areas.
Read | RBI increases withdrawal limit: Here's a list of the withdrawal and deposit rules
Close