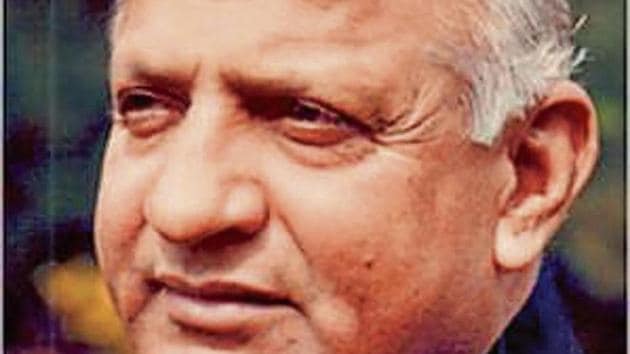 Devaraj Urs did it 4 decades ago. Now, Siddaramaiah aims for this Karnataka feat
Siddaramaiah is only the third among Karnataka's 22 CMs to have had a full term. If he retains power, he'd match D Devaraj Urs's hitherto unbroken record of two successive wins.
Hindustan Times, Hunsur | By Vinod Sharma
UPDATED ON MAY 07, 2018 03:58 PM IST
This nondescript township about 40-km off Mysuru has a claim to political fame. It has been the 'janmabhoomi' and 'karmabhoomi'— place of birth and work— of the late D Devaraj Urs who rose to become Karnataka's second ever chief minister to complete his term in office.
Before him, only S Nijalingappa was CM for full five years. But his record was lesser, belong as he did to the elite Lingayat community. Urs's 1972 victory was nothing short of a revolution; a stunning reversal of the socio-political order of the time.
The aristocratic kshatriya identified with Mysore's royal family was re-elected for a second consecutive term he couldn't complete. Yet, it's a milestone unmatched in the state dominated by the entrepreneurial Lingayats and the landed Vokkaligas.
Siddaramaiah, an OBC from the Kurba community, turned up triumphant by recreating Urs's social alliance of Dalits, OBCs and Minorities (referred to as the AHINDA movement in Kannada). He's only the third among Karnataka's 22 CMs to have had a full term. If he retains power, he'd match Urs's hitherto unbroken record of two successive wins.
But will he? Can he? The Congress's challenge under Siddaramaiah is strong. But not strong enough, many believe, to replicate his 2013 win against a split-enfeebled BJP. The Lingayat strongman who then broke the party, BS Yeddyurappa has since returned home. The question remains as to which of the two national parties will romp home on May 15. A hung House could bring into play myriad factors militating the spirit of the mandate. Meghalaya was one recent example. Karnataka could be another. But that, as of now, is conjecture.
In the outgoing 224-strong Assembly, the Congress has 122 seats. In the face of a united BJP, Siddaramaiah has improvised the AHINDA lineup by endorsing minority status outside the Hindu fold for Lingayats who follow the teachings of Basavanna, a 12th century social reformer.
The bid actually is to create fissures in the largely pro-BJP community. The saffron party has termed it as an attempt to divide the Hindus. For the CM, it is value addition to his AHINDA social base. "It's now AHINDA-Linga," said KB Ganapathy, founder editor of the popular eveninger, Star of Mysore.
The veteran journalist had seen Urs and Siddaramaiah in their formative years. The Chamundeshwari seat, from where the CM first entered the Assembly in 1983 as an Independent, is also in Mysuru. He's recontesting the constituency besides Badami, in Hyderabad-Karnataka's Bagalkot.
The comparison between Urs and the CM seems to revolt Ganapathy. "How can you compare the two," he protested, listing out Urs's erudition, taste in fine arts and path breaking political achievements-- land reforms and eradication of bonded labour. "Fortune favours some. The incumbent CM is one such person with no special talent or skill," he argued.
Comparisons can indeed be odious. Urs was a democrat with deep knowledge of Marxist theory. That was the intellectual basis of the land redistribution he led in Karnataka on the lines of Kerala and West Bengal.
Siddaramaiah lacks Urs's cerebral heft, his tastes and finesse. Yet their political journeys have been strikingly similar. Astute caste engineers, both broke free of former prime ministers: Urs rebelled against Indira Gandhi to walk out of the Congress; Siddaramaiah walked into the Congress when Deve Gowda turned JD-S into a family party.
The mismatch was in their moral parameters. Urs stood up to Indira after helping her enter Parliament from Chikkamangaluru a year after her 1977 electoral washout. Siddaramaiah ditched a mentor who thrice made him deputy CM.
"Siddaramaiah knows how to deal with Gowda the way Urs knew how to deal with Vokkaligas," remarked KP Unnikrishnan, a former Union Minister who quit the Congress before the 1980 parliamentary polls under Urs's leadership. Other biggies in the exodus to the newly-minted Congress-Urs included AK Antony, Sharad Pawar and PR Dasmunshi.
In their own way, Urs and Siddharamaiah stoked chauvinistic Kannada pride to meet political ends. The latter's emphasis on Kannada language and a separate state flag is a counter to the BJP's religio-cultural nationalism. It's distantly comparable with Urs, a Mysorian, renaming the state from Mysore to Karnataka. That was a move in consonance with the Kannada sentiment.
"Siddharamaiah became a language activist when appointed chairman of the Kannada Watchdog Committee in RK Hegde's regime," recalled Srikanta Murthy, a Congress leader who worked with Hegde. Like Urs under Nijilingappa in the sixties, the current CM held identical tranport and animal husbandry portfolios under Hegde in the 1980s.
Does all that qualify Siddaramaiah as Urs-2? Arguably yes. But not yet, insisted Unnikrishnan.
He may get there electorally if he wins Karnataka again for the Congress. The jury is out till May 15. The X-factor in the developing social matting is the Lingayat vote.
Close