'Don't shoot the messenger': Kharge to Modi after NDMA's gag order on Joshimath
Jan 15, 2023 06:56 AM IST
The NDMA memorandum came a day after an ISRO report was released saying that Uttarakhand's Joshimath sank 5.4 cm in just 12 days.
Congress president Mallikarjun Kharge on Saturday urged Prime Minister Narendra Modi to "not shoot the messenger" after the National Disaster Management Authority (NDMA) asked government agencies to refrain from sharing any details related to their findings on land subsidence in Joshimath till an "integrated" final report is submitted by the expert group on the subject.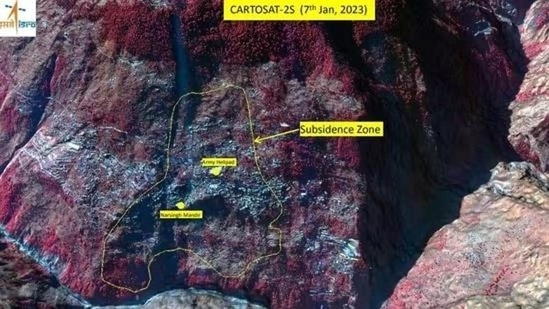 "Instead of solving the disaster and solving the problems of the public, ban has been imposed on the reports of government agencies - ISRO and media interactions have been banned. Narendra Modiji, Do not Shoot the Messenger," Kharge said in a tweet.
The NDMA memorandum came a day after an Indian Space Research Organisation (ISRO) report was released saying that Uttarakhand's Joshimath sank 5.4 cm in just 12 days.
In an office memorandum issued on Friday evening, the NDMA said - "It is observed that various government institutions are releasing data related to the subject matter in social media platform and also they are interacting with media with their own interpretation of the situation. It is creating confusion not only among affected residents but also among citizens of the country. The issue was highlighted during a meeting chaired by Honorable Union Home Minister (Amit Shah) on January 12, 2023."
The central government has formed a team of experts from the NDMA, Geological Survey of India, IIT Roorkee, Wadia Institute of Himalayan Geology, National Institute of Hydrology and Central Building Research Institute to study and give recommendations on the situation in Joshimath. Asserting that an expert group is already looking into the incident, NDMA has asked the departments concerned to avoid sharing details on social media or interact with media.
"You are requested to sensitize your organization about this matter and refrain from posting anything on the media platform until the final report of the expert group is released by NDMA," the NDMA letter added.
Following the NDMA letter, the ISRO report was removed from its website.
Shiv Sena MP Priyanka Chaturvedi said that the memorandum was "literally a gag order to not let the country know what's happening in Joshimath."