Election 2019: Your guide to election tourism
Four phases of the election will be over by tomorrow. Plan a summer break by travelling to some of the places yet to go to polls, on May 6,12 and 19. Discover the sights, sample the food, buy the crafts – with election fever as the exciting backdrop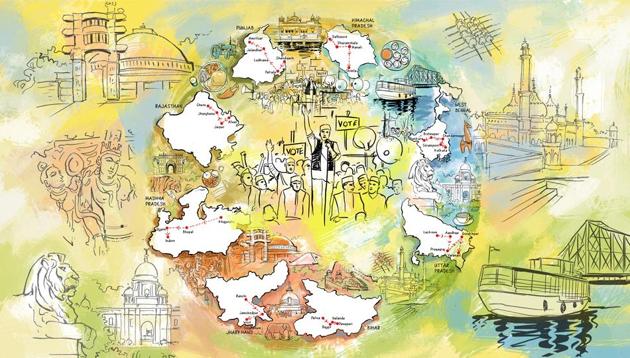 Updated on Apr 28, 2019 05:31 PM IST
Hindustan Times |
HT Correspondents
UTTAR PRADESH
Polling days: May 6, May 12 and May 19
Itinerary: Lucknow-Ayodhya-Prayagraj-Gorakhpur-Varanasi
Lucknow
This former city of nawabs and the capital of Uttar Pradesh, is a foodie's paradise with its mouthwatering Awadhi cuisine. Go to Tunday Kababi for galauti kebabs; Rahim's kulcha nahari and Idris Biryani are other favourites. Have khasta, poori and kachauris at Ratti Lal's and thandai at Pandit Raja's thandai. Check out the Bara Imambara, Chhota Imambara, Chhatar Manzil, Kothi Gulistan-e-Eram, Kothi Darshan Vilas and Rumi Darwaza. Pick up some light, cotton chikan embroidered saris, kurtas and dupattas for the summer months ahead. And eat plenty of chaat!
Situated on the banks of the river Saryu, Ayodhya has, for decades, been at the centre of the ongoing Ram Mandir movement. Some of the things to see here are the Ram Ki Paidi, Tulsi Udyan and Rishabhdev Udyan and the many ghats. Hanuman Garhi one of the most well-known temples here, was built on land donated by Nawab Shuja-ud-Daulah. On the temple's land stands a mosque that is now being repaired with the temple funds.The Kanak Bhawan Trust serves pure vegetarian food for pilgrims every day. The temple town is famous for dahi –jalebi and rabri; and 'khurchan ka peda'.
Prayagraj (or Allahabad as it was known until recently) has a deep association with the freedom struggle and the politics of free India. The city has given the country six prime ministers. Visit Anand Bhawan, the ancestral home of the Nehru-Gandhi family, Allahabad Museum and the Chandrashekhar Azad Park.The 128-year-old Allahabad University, with its gorgeous architecture, has given the country political leaders like Chandra Shekhar, VP Singh, writers and poets like Dharamvir Bharati and Firaq Gorakhpuri. Sample the dehati rasgulla and chaat at Bairhana and dahi bada at Khoka Rai near Chandrashekhar Azad Park in Civil Lines. Drop in at the Coffee House to get a feel of the place that has been a mute witness to numerous political and intellectual debates over the years.
The Gorakhnath Mandir is what draws most people here. UP chief minister Yogi Adityanath is the head priest of the temple, which also now houses a mini chief minister's office. Ramgarh lake, the 17th century Sunni Imambara and the Gita Press are other attractions.
Local cuisine includes litti-chokha and the dry-fruit-stuffed Dulhan Roti. One may also try the Lucknowi biryani at Mamu ki Dukan and sweets at the Chowdhry sweet shop on Vijay Chowk. The Goraknath temple serves prasad of rott (a rice dish) and, during summer, aam panna. Shopping options here include terracotta idols and pottery and models of the Gorakhnath temple.
At Pappu tea stall steaming cups of chai are accompanied by hotter debates on politics these days. If the discussion gets too bitter, bite into the favourite local sweet – the imarti; or sample the kachauri, rabri and jalebis that the town is known for. Kachauri Gali is a must visit. Just stroll along the Ganga or relax and meditate at the various ghats – Assi and Dashashwamedh are two of the popular ones; enjoy the Ganga aarti in the evening. Pray at the Kashi Viswanath temple. Don't forget to shop for Benarasi handloom weaves.
WEST BENGAL
Polling days: May 6, May 12 and May 19
Itinerary: Kolkata-Serampore-Chandannager-Bishnupur-Bankura-Kolkata
Serampore
Take a flight to Kolkata. From there, hire a cab for 12 hours and cross the Hooghly river to Serampore, 35 km away from Kolkata. An erstwhile Dutch colony, a major project is underway to restore its colonial heritage. Some of the places to visit here include St Olav's Church, the Denmark Tavern and the Danish Government House. The Goswami mansion – a private property – is a perfect example of a blend of European and Indian architectural styles. Have lunch at the restaurant on the ground floor of the Denmark Tavern.
Situated at a distance of 19 km from Serampore, this was once a French colony. Take a stroll down the Strand – the stone-paved, tree-lined path along the river. The Dupleix Museum houses a rare collection of items from French period. Outside is a statue of Marianne, the symbol of the French republic. Close by stands the 19th century Sacred Heart Church. The 1740-built Nandadula temple is another must-see. For a sweet end to the day, pick up sweets from Surjya Kumar Modak, before returning to Kolkata.
Hire a cab for three days and drive down to Bankura. Next day, travel to Bishnupur (40 km away). The two are the heartbeats of rural Bengal, the land of the red soil and folk culture. At Bankura, explore the Joypur jungle. Don't forget to pick up Bankura's traditional terracotta horses as a memento of your trip. Take the temple trail in Bishnupur – Shyamrai, Jor Bangla and Madanmohan – to get a glimpse of ethnic terracotta architecture. At Panchmura village, interact with terracotta artisans and shop for souvenirs, before returning to Kolkata.
Kolkata
Start from busy Hatibagan in north Kolkata. Move to Shovabazar – an old Kolkata neighbourhood- and Kumartuli, the idol-makers hub, popular especially for Durga idols. Visit the house where Swami Vivekananda was born and brought up, and Jorasanko, the home of Rabindranath Tagore. Browse through lanes full of book shops in College Street. Before you see the famous Presidency College, have a coffee at Coffee House, where all great Bengali intellectuals would meet, to indulge in 'adda'. Enjoy fries and cutlets at Mitra Café and Niranjan Aagar, biriyani at Shiraz and Bengali cuisine at Bhojohori Manna. For sweets, go to Nakur Chandra Dey.
Then move on to the south Kolkata, with Park Street – go to Olypub for cheap drinks, Flurys for breakfast and Mocambo for lunch. Walk from the Asiatic Society to St. Xavier's college. Go to Bow Barracks to say hello to the Anglo Indians, then go to Victoria Memorial and the Nandan cultural complex. Hindustan Park and Ballygunge are the best examples of posh South Kolkata. Visit Jadavpur University to see the last bastion of the Left in the city wrapped in pictures of Mamata Banerjee
PUNJAB
Polling Day: May 19
Itinerary: Chandigarh-Patiala-Ludhiana-Jalandhar-Amritsar-Chandigarh
Patiala
Take a flight to Chandigarh, then hire a cab for Patiala, 57 km away.Visit the Bahadurgarh Fort (built in 1658 in a circular shape, it is named after the ninth Sikh guru, Guru Tegh Bahadur). Also Qila Mubarak, the 18th-century ancestral home of the maharajas of Patiala. The royal house is now headed by Captain Amarinder Singh, the current chief minister of Punjab. Visit the Sheesh Mahal – an ornate mirrored palace which has on display royal treasures including paintings and artworks. Shop for phulkari and traditional footwear called tilla jutti. For chhole bhature, go to Sheran Wala Gate; for pakoras to Phatak number 22; golgappas to Karah Wala Chowk, Tripuri Market and Sirhindi Gate; and mango lassi at eateries all over the city.
Asia's largest hub for bicycle manufacturing, Ludhiana also produces 60% of India's tractor parts and a large portion of auto and two-wheeler parts. Check out the museums here – Maharaja Ranjit Singh War Museum and Punjab Agricultural University Museum. Visit the Payal Fort, where parts of Rang De Basanti were shot. Eat at Gyan's vegetarian dhaba at Civil Lines. Kipp's Market is ideal for a snack and Ice Cream Studio in Sarabha Nagar for dessert.
A sports hub, one of the main attractions here is the Jang-e-Azadi, a memorial dedicated to those who fought in the freedom struggle. Be sure to sample the juicy jalebis at Nauhrian Bazar.
Amritsar
Founded by the fourth Sikh Guru, Guru Ram Das Ji, Amritsar has witnessed tumultuous times over the centuries. At 4am every day in the shimmering Golden Temple, is the symbolic Palki Sahib ceremony where the Guru Granth Sahib is taken in a palanquin by devotees. You can see the enormous common kitchen and if you want to do an act of service, help prepare food for the devotees who pour in from all over the world every day to the Golden Temple. Stay at the newly constructed Saragarhi Sarai located on the city's Heritage Street, make a sombre stop at Jallianwala Bagh – where a peaceful assembly of Indians was massacred by General Reginald Dyer in 1919. Shop at Hall Bazaar; visit the Guru Nanak Dev University and the Khalsa College; eat at Bharawan da dhaba, near the Town Hall, or from hawkers in and around the Heritage Street. Sample Amritsari kulche, chhole and lassi. Drive down to the Wagah Border, about 36 km away, and watch the ceremony of 'lowering of the flags' at the Indo-Pak border in the evening. Next day return to Chandigarh.
Chandigarh
The shared capital of Punjab and Haryana, this Union Territory – designed by French architect Le Corbusier – was one of the earliest planned cities of post-Independence India. Visit the Sukhna Lake and Nek Chand's Rock Garden; shop at Sector 17 Plaza which comes alive in the evening with a fountain show. Check out the beautiful architecture of the Capitol Complex. Don't forget to catch a play at Tagore Theatre, Sector 18; an art exhibition at Punjab Kala Bhawan, Sector 16; or just sit and relax in the city's many parks. The best way to do is to take a hop-on-hop-off guided bus tour.
RAJASTHAN
Polling days: May 6
Itinerary: Alwar-Jaipur-Jhunjhunu-Churu
Alwar
Travel by road from Delhi. At Alwar, hire a cab to visit the Sariska Tiger Reserve. Make a stop at the Pandupol Hanuman temple on the way. Other places of interest include Bala Quila, Alwar City Palace and Siliserh Lake. Alwar is known for its milk cake or mawa. Shop for handicrafts, including terracotta statues, woven carpets, leather and embroidered mojaris (footwear), bangles etc, at Hope Circus, Saraf Bazaar and Malakhera Bazaar.
Known as the Pink City, because of its rose-coloured buildings, Jaipur has some grand, must-visit forts such as the Nahargarh fort. Also go to the Jantar Mantar, City Palace, Hawa Mahal, Albert Hall Museum and Jal Mahal. Sample Rajasthan's famed laal maas, churma-dal-bati and ghewar (a sweet). Masala Chowk, with its delicious food stalls, is a great place to try local food. Shop at Johari Bazaar, Nehru Bazaar, Bapu Bazaar and stalls at Badi and Chhoti Chaupars.
Both districts in the Shekhawati region have an abundance of old forts, havelis and baoris or stepwells. Churu is home to some very beautiful frescoed havelis. Besides the havelis in the cities, there are places of interest in both districts that are located in nearby towns: Khetri Mahal (Khetri), Sethanio Ka Johara (reservoir) in Churu, havelis and forts in Mandawa, Nawalgarh, Alsisar, Bissau and Dundlod; Churu also has a heritage walk for those interested in walking.
MADHYA PRADESH
Polling days: May 6, May 12 and May 19
Itinerary: Khajuraho-Bhopal-Ujjain-Indore
Khajuraho
Take a train or flight to Khajuraho, in the Bundelkhand region, to see the stunning Hindu and Jain temples with their exquisite sculptures (a UNESCO world heritage site). Next day travel to Panna National Park (32 km away), a tiger reserve, and return in the evening to Khajuraho.
Take a train or flight to Bhopal (370 km from Khajuraho) in central Madhya Pradesh. Hire a cab for two days in Bhopal. Go to Bhimbetka, another UNESCO world heritage site (45 km from Bhopal) to see ancient cave paintings.Enjoy the view of the many lakes of Bhopal; visit the grand Taj-Ul-Masajid mosque and the Indira Gandhi Rashtriya Manav Sangrahalaya – an anthropology museum. Next day, drive down to Sanchi (45 km from Bhopal) to see the ancient Buddhist stupa. Do sample Bhopal's famed poha-jalebi and salted tea for breakfast. Bhopal's non-vegetarian cuisines have the influence of its erstwhile nawabs.
Ujjain, 190 km from Bhopal, is known as the city of temples. It has one of 12 jyotirligas of the country at Mahakaleshwar temple and is also home to the 18th century observatory, Jantar Mantar.
Located 55 km from Ujjain, Indore is known as the commercial capital of Madhya Pradesh. From here, you can drive down to spectacular Mandu (about 90 km away), known for the romantic story of Roopmati and Baz Bahadur. It has several historical monuments including Rani Rupmati's pavilion, Jahaz Mahal, which, true to its name, looks like a ship; Hoshang Shah's tomb and Jami Masjid mosque. There are baobab trees here which are native to Africa. About 35 km from Mandu is Maheshwar, situated on the banks of the Narmada river, and the capital of the Malwa region during the rule of the Holkars. It has a fort and the town is known for its handloom Maheshwari sarees. Pick up a few for yourself or for gifts. Either spend at the night at Maheshwar or return to Indore. Next day, move on to Omkareshwar (74 km from Indore), also situated on the banks of the Narmada river, with another of the 12 jyotirlingas in the country. Return to Indore by afternoon and see Rajwada Palace built by the Holkars about two centuries ago, Krishna Pura Chhatri and Lal Baag Palace. Alternately, give Mandu, Maheshwar and Omkareshwar a miss, and from Indore, drive up to Panchmarhi (194 km), Madhya Pradesh's only hill station and spend a day or two there. Indore is known for Malwa's wide range of vegetarian food. People love to visit Sarafa Bazar in the evening for its street food.
BIHAR
Polling days: May 6,12 and 19
Itinerary: Patna-Rajgir/Nalanda-Pawapuri
Patna
Take a flight to Patna, hire a cab for 12 hours and visit Bihar Sharif, the site of Odantapuri University, the 7th century Buddhist university and monastery. Also visit Nepura, a village located four kilometres south of Bihar Sharif. It is a handicraft village, known for its tussar silk saris and more. Enjoy a plate of rabri while in Patna.
Hire a cab and go to Nalanda (74 km from Patna). On the way, stop to have sweet khajas at the small town of Silao. Spend the night at Rajgir which is 12 km from Nalanda. The ruins of the ancient Nalanda University and the Mahavihara are the major attractions. The Hiuen Tsang Memorial was set up by the Nav Nalanda Mahavihara to mark the Chinese traveller's visit . There is a Sun temple by a pond at Baragaon. Next morning, take a dip in the hot spring in Rajgir. Explore the old sites of the great Maghadh empire, such as the remains of remains of king Bimbisar's jail and Ajatshatru's fort. Don't miss the cyclopean wall, believed to have been built much before the great wall of China.
Dedicate an entire day for the Ratnagiri Hills and Griddhakuta Hills. Check out the hospital of Ajeevak, the physician of Lord Buddha and the World Peace Pagoda built by a Japanese monk. The Buddha, it is believed, would deliver his sermons from the Griddhakuta Hills.
At a distance of 19 km from Rajgir is Pawapuri. The Jal Mandir here is where Lord Mahavir had attained Nirvana.
HIMACHAL PRADESH
Polling day: May 19
Itinerary: Dharamshala/McLeodganj-Dalhousie/Khajjiar-Manali-Shimla
Dharamshala-McLeodganj
From Delhi, take a flight to Kangra and then hire a cab for Dharamshala (16 km) and McLeodganj (25 km) from the airport. McLeodganj was established by the British as an army cantonment in 1850. The sleepy hill town is also known as Little Lhasa for being home-in-exile for the Tibetan spiritual leader, the Dalai Lama. Places of interest include the St. John in Wilderness Church and Bhagsunag, with its waterfall and an ancient temple dedicated to lord Shiva. Get your fill of Tibetan food at Tibet Kitchen at McLeodganj. Some restaurants also serve Kangri Dham – a traditional local platter. Check out the Namgyal Monastery and the Tsuglagkhang Complex, which includes the Dalai Lama's temple. Also visit the Kangra fort, on the outskirts of Dharamshala.
From Dharamshala, hire a cab for Dalhousie and Khajjiar – separated by a distance of 21 km. Enjoy a picnic at Panchpulla, surrounded by pine and deodar trees and streams. Khajjiar, ringed by forests, has many beautiful meadows. The Kalatop Wildlife Sanctuary is close by.
Nestled on the banks of the Beas, Manali is also a gateway to Lahaul-Spiti and Leh. Thirty-five kilometres from Manali is the famous picnic spot, Marhi, while Rohtang Pass is 50 km away. One of the must try dishes here is the Kulu speciality Siddu – a kind of bread – which is served with pure desi ghee.
The summer capital of British India, Shimla has all the charms of a hill station, with its old churches, bustling Mall Road and towering trees. Places of particular interest include the majestic Viceregal Lodge, and Gorton Castle. The Ashiana restaurant, run by the Himachal Pradesh Tourism Corporation, offers great views of the town. Shop for shawls and scarves, jams and preserves, wooden souvenirs and chunky jewellery.
JHARKHAND
Polling days: May 6, May 12 and May 19
Itinerary: Ranchi-Jamshedpur
Ranchi
Hire a cab for two days and enjoy the sights of this city, surrounded by picturesque waterfalls and dams. Prominent among them are the Dassam, Jonha, Hundru and Hirni falls and Kanke, Rukka, Dhurwa dams. The Patratu valley, known for its natural beauty, is also a must visit. Bhagwan Birsa Biological Park – one of eastern India's biggest zoos – Tagore Hill, Jagannath Temple and Pahari Mandir (dedicated to lord Shiva) are some of the tourist draws in Ranchi.
From Ranchi, hire a cab to Jamshedpur. On the way, visit Deori temple (dedicated to goddess Durga; Indian cricketer MS Dhoni is a devotee), Dassam fall, the Sun temple and Chandil dam – famed for its cage culture (a system where fish are held in floating net pens). Spend a night in Jamshedpur – named after Tata group founder Jamsetji Tata. From Jamshedpur, go to Dalma Wildlife Sanctuary, just 10 km away, and perfect for elephant watching. Visitors can stay the night at the sanctuary in tribal huts specially constructed for tourists and sample some tribal cuisine. Return to Jamshedpur, and take a cab for Saranda in West Singhbhum – the land of 700 hills (170 km from Jamshedpur). Saranda boasts of Asia's largest Sal forest.
Text by: Navleen Kaur Khetarpal, Gaurav Bisht, Naresh Thakur, Saubhadra Chatterjee, Oliver Frederick, Pawan Dixit, Saurabh Chauhan, Sanjoy Kumar Dey, Reena Sopam, Shruti Tomar and Rakesh Goswami
Close Story