Noted lawyer, former union minister Ram Jethmalani dies at 95
Ram Jethmalani fought a number of high-profile cases including those where he defended the assassins of former Prime Ministers Indira Gandhi and Rajiv Gandhi.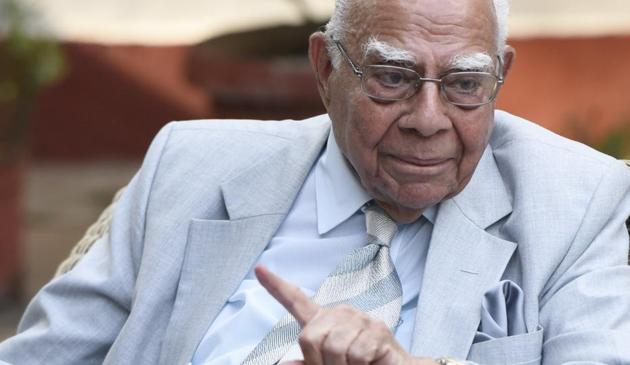 Updated on Sep 08, 2019 10:48 PM IST
Former Union minister and celebrated lawyer Ram Jethmalani, who argued in high-profile cases such as the Nanavati case and the Jessica Lall murder case, died in New Delhi on Sunday. He was 95.
The senior advocate had been unwell for the last few months and breathed his last at 7.45am at his residence, his son Mahesh Jethmalani said.
Prime Minister Narendra Modi visited Jethmalani's residence and said that the "courageous" advocate never shied from expressing his views. "In the passing away of Shri Ram Jethmalani Ji, India has lost an exceptional lawyer and iconic public figure who made rich contributions both in the Court and Parliament. He was witty, courageous and never shied away from boldly expressing himself on any subject," the PM wrote on Twitter.
"Saddened by the passing of Shri Ram Jethmalani, former Union Minister and a veteran lawyer. He was known to express his views on public issues with his characteristic eloquence. The nation has lost a distinguished jurist, a person of great erudition and intellect," the President's Secretariat tweeted.
Union home minister Amit Shah said that the veteran lawyer will always be remembered for his vast knowledge on legal affairs. Attorney general KK Venugopal also said the country has lost its "finest lawyer" who was bold and handled the most sensational criminal cases and constitutional matters.
Former prime minister Manmohan Singh too remembered Jethmalani as "an able administrator and a seasoned parliamentarian", and Congress president Sonia Gandhi extended her condolences to the advocate's family and friends.
Jethmalani -- popularly called a 'doyen in the field of legal fraternity' -- shot to prominence in 1959, when he took up the role of a prosecutor in the landmark KM Nanavati case, in which a naval commander was tried for murdering his wife's lover Prem Bhagwan Ahuja.
His other high-profile cases included the Indira Gandhi assassination case in which he appeared for the accused.
In 2011, he defended former prime minister Rajiv Gandhi's assassin in the Madras high court besides Harshad Mehta and Ketan Parekh in stock market scam cases and Delhi University professor SAR Geelani in the Parliament attack case in 2001.
The senior advocate had also represented the accused, Manu Sharma, in the Jessica Lall murder case.
A six-time Rajya Sabha MP, Jethmalani was presently serving as a member of the Rashtriya Janata Dal. He was elected to the Lok Sabha twice on a Bharatiya Janata Party (BJP) ticket from Mumbai in 1977 and 1980.
Jethmalani served as the law minister and the urban development minister in the Atal Bihari Vajpayee-led BJP government between 1998 and 2000.
Jethmalani remained a BJP member in Parliament's upper house subsequently, but fell out with the party in 2013.
He was finally expelled from the BJP for six years for alleged anti-party activities, prompting him to file a suit and demanding ₹50 lakh in damages from the saffron party, but the matter was amicably settled after Shah expressed "regret" over Jethmalani's expulsion.
Widely respected by the Bar and the Bench, the former minister also served as the Supreme Court Bar Association president in 2010 and was the Bar Council of India chairman four times.
A vocal critic of the Congress-led central government during Emergency, the advocate earned a reputation of being characteristically forthright in expressing his views. "He was a champion for the underdog, was an open critic of an inefficient system and roared like a lion in courts," former Delhi high court judge Justice RS Sodhi, who had worked closely with Jethmalani, said.
Born in Shikarpur in Sindh province (now in Pakistan) in 1923, Jethmalani completed his law degree in undivided India at the age of 17 and began his practice before moving to Mumbai after partition.
Senior advocate Indira Jaising, who also belonged to Sindh, remembers that Jethmalani was fond of talking about his life in Pakistan. "We both had a common dream, to see India and Pakistan friends," she said.
He retired in 2017 but continued to teach pro bono at a private law college in Pune.
His mortal remains were cremated at the Lodhi road crematorium later in the evening in the presence of family members, friends and eminent people, including law minister Ravi Shankar Prasad and Delhi chief minister Arvind Kejriwal.
(With inputs from agencies)
Topics
Close Story