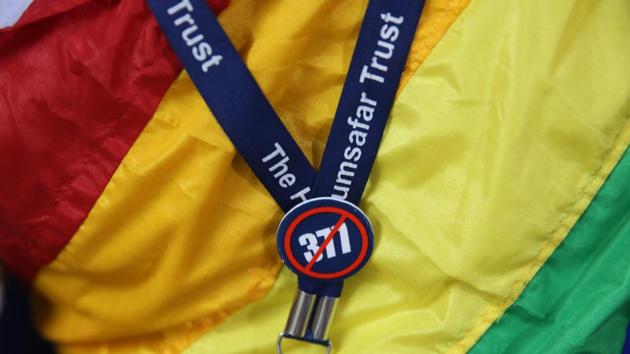 'Pain and fear end today': LGBT community welcomes top court order on Section 377
Supreme Court turning down part of Section 377 is historic, but fight for LGBT rights will continue, say activists.
UPDATED ON SEP 06, 2018 01:29 PM IST
Celebrations broke out across India minutes after the Supreme Court read down Section 377 of the Indian Penal Code, effectively decriminalising homosexuality, as activists and LGBT people welcomed a verdict that affirmed their right as citizens.
Members of the Lesbian, Gay, Bisexual and Transgender (LGBT) community had gathered in various cities and outside the Supreme Court in Delhi since early Thursday morning, waiting for a judgment that was reserved after hearings in June.
Read: Gay sex among consenting adults is not an offence, rules SC
"The pain and fear ends today. We are independent. We are equal. India got a new independence today," said Himanshu Aggarwal, a queer rights activist from Delhi.
The top court in 2013 had struck down a 2009 Delhi high court judgment that read down Section 377. But activists said Thursday's judgments - especially the section where the court talks about the right to live with dignity - had touched a chord with everyone. "This is a great moment for everyone and the culmination of a lot of struggle," said an activist from Chennai who requested to not be named since she is not out to her family.
Read: The 6 petitioners who championed decriminalising Section 377
But despite the celebration, some indicated that the fight for LGBT rights had just begun. Pavan Dhall, an activist from Kolkata who has been a part of the queer movement for two decades, said the feeling was sinking in.
"But it is also true that the fight for civil rights remains. This decriminalisation is important but wider rights for the community as citizens is something we will fight for," said Dhall.
Close