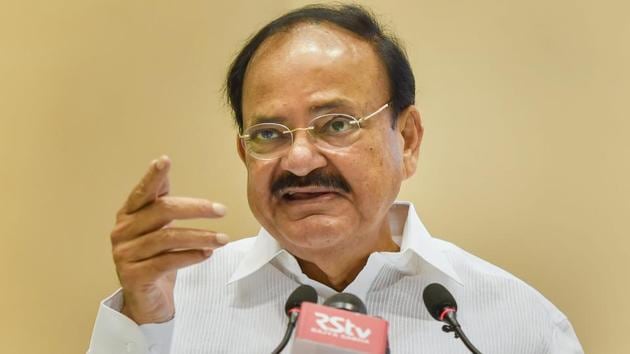 English language is a disease left behind by the British, says vice president Venkaiah Naidu
Speaking at the 'Hindi Divas', vice president Venkaiah Naidu also said it is "very important that we encourage our mother tongue".
Hindustan Times, New Delhi | By HT Correspondent
UPDATED ON SEP 14, 2018 11:27 PM IST
Vice President M Venkaiah Naidu on Friday termed the English language a 'disease' left behind by the British, stressing that Hindi was the symbol of "socio-political and linguistic unity" in India.
"Yeh bimari jo angrezi wala chhod kar gaya, is bimari se hamein mukt karna chahiye: (this disease that English left behind, we should rid ourselves of this disease)," he said at an event organised on the occasion of 'Hindi Divas' at Vigyan Bhawan in New Delhi.
Naidu said the Constituent Assembly (which framed the Constitution) had accepted Hindi as one of the official languages of the country on September 14, 1949.
"Have we been able to fulfil the wishes of the Constituent Assembly?" he asked.
Interestingly, the assembly also adopted English as an official language at the same meeting.
Naidu, who usually begins speeches in various states in the local language before reverting to either Hindi or English, also said it is "very important that we encourage our mother tongue."
Naidu said language and emotions "go together". "If you want to reach out to people…understand them, then you have to properly express your emotions. It is easier to express your feeling in one's mother tongue, in an Indian language. This is everybody's experience. That's why one should speak in one's mother tongue at home."
The vice-president pitched for the translation of literature in regional languages into Hindi. He said Hindi was the main language of the freedom fighters, and it was spoken and understood by most of the people in the country.
"It was the symbol of social, political, religious and linguistic unity of the country. Even today, these qualities make it acceptable among all other languages," he said.
If we desire that our democracy continues to be progressive and becomes stronger, then we will have to use Hindi in the functioning of the Union government and the regional languages in the functioning of the state governments. Every state has immense contribution in Hindi getting the present status," he said.
When foreign dignitaries come to India, they speak in their own language, Naidu said, adding, "...we should understand this spirit".
Naidu said all Indian languages were vibrant and each of them had its own literature, dictionary and idioms. It was not a matter of debate whether Hindi was the best among all Indian languages as there were many other languages which were older and more vibrant than Hindi, he added.
"Sanskrit is the mother of all languages and there are many regional languages which are very vibrant," Naidu said, according to the news agency Press Trust of India.
Close