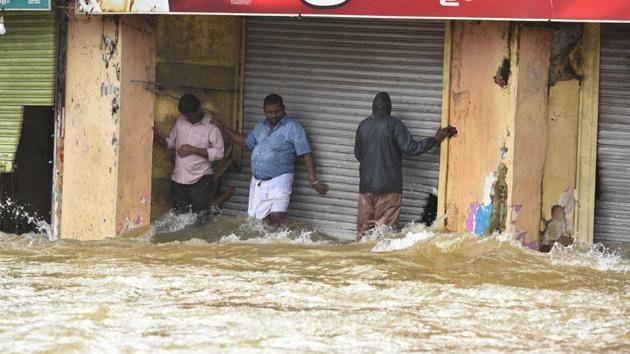 Extreme weather conditions claimed 1,428 lives in 2018, IMD report reveals
In Uttar Pradesh, 590 people died due to extreme weather events. The state with the largest population in the country saw 158 deaths due to flood and heavy rainfall, 166 deaths due to thunderstorm, lightening (39 deaths), dust storm (92 deaths) and cold wave took 135 lives.
UPDATED ON JAN 16, 2019 11:39 PM IST
There were 1,428 deaths due to extreme weather events in 2018, which was the sixth warmest year since 1901, a report compiled by India Meteorological Department (IMD) said.
The highest number of deaths recorded at a single event was 223 during the heavy rainfall and flooding in Kerala in August. "The deaths reported are not as per any data collected by IMD but from media reports. This just gives an idea of the impact of extreme weather events," said Dr Mrityunjay Mohapatra, senior scientist at IMD.
Uttar Pradesh was the state worst hit by natural disasters, with 600 deaths in five separate extreme weather events — rainfall and flood, thunderstorm, lightning, dust storm and cold wave. The IMD is planning to put a thunderstorm or lightning prediction system in place by April this year to prevent loss of life.
Read: 10 persons, including 9 homeless, die in a week due to intense cold in Gurugram
In 2018, six cyclonic storms formed north of the Indian Ocean, with three in the Arabian Sea and three in the Bay of Bengal. Only the ones in the Bay of Bengal made landfall in India, killing 122 people in Tamil Nadu and Odisha.
"When we say global warming, it does not mean that the earth will just become warmer. There will be more extreme weather conditions, including extreme heat and cold, extreme rainfall, and intense cyclones. We need to develop coping mechanisms by way of better urban planning...," said Dr Rajiv Seth, former pro vice-chancellor of TERI School of Advanced Studies.
The IMD report also says that 2018 was the sixth warmest year since 1901, when India's annual temperatures started getting recorded.
Also read: India must climate-proof its rural and urban infrastructure
Close