Five soldiers, one civilian killed as militants attack Jammu's Sunjuwan military base
Updated on Feb 11, 2018 05:30 PM IST
Bodies of another junior commissioner officer, two army jawans and the father of a soldier were recovered on Sunday in the attack that began a day earlier.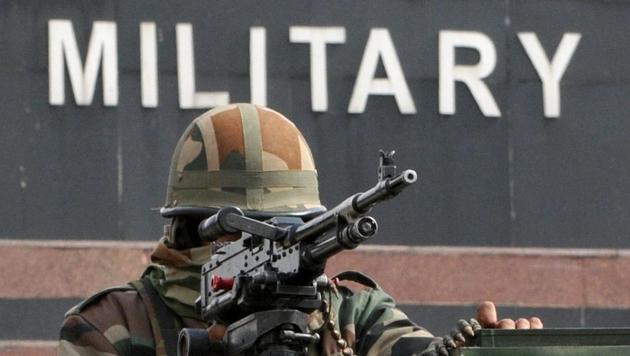 Five soldiers and a civilian have been killed as an operation to flush out militants holed up close to the residential area of the Sunjuwan military station in Jammu continued for the second day on Sunday, the army said.
Three militants has also been killed, defence spokesman Lt Col Devender Anand said, adding the operation was still on.
"The third was also wearing army combat dress and was heavily armed. AK-56 rifles, under barrel grenade launchers, ammunition and grenades were recovered from them," he said.
There was still no clarity on the number of attackers, which sources put at four or five.
Bodies of another junior commissioner officer, two army jawans and father of a soldier were recovered on Sunday, Lt Col Anand said.
Updates on Sunjuwan military base attack
They were killed during the initial stages of the attack that also left 10 people, including six are women and children, injured. The other two soldiers were also killed on Saturday.
"A 14-year-old boy who suffered a gunshot wound through the head remains critical. Sanitisation and search operation were still continuing," the spokesperson said.
A police release earlier in the day had identified the dead civilian as the father of lance naik Mohammmad Iqbal, who, too, died in the attack which police and army said was carried out by Pakistan-based Jaish-e-Mohammad.
Army chief Bipin Rawat arrived in Jammu to review the operation that started early on Saturday after heavily armed militants in army fatigues stormed the camp at around 4.45am.
"It's a condemnable act. This shows the cowardice of Pakistan who can't face India directly and sends its people to attack civilians here. There are family quarters around the camp, so the army is taking precaution in cordoning the area," deputy chief minister of J-K Nirmal Singh said in the morning.
The attack has again raised questions, as security was beefed up in the state in view of the death anniversary of Parliament attack convict Afzal Guru, who hailed from Kashmir.
"A high alert had been sounded in the Valley and for Jammu as well to watch out for possible (militant) attacks on the anniversary of Afzal Guru's hanging," said a central security official on condition of anonymity.
Sunjuwan is third biggest army facility in Jammu and Kashmir after Northern Command's headquarters in Udhampur and Badami Bagh cantonment in Srinagar.
Militants had targeted the Sunjuwan camp 14 years ago as well. Two fidayeen militants had cut through barbed wires to enter the base on June 28, 2003, leaving 12 soldiers dead.
Personalise your news feed. Follow trending topics