Chilli bombs to tear gas, CRPF looks at alternatives to pellet guns in Kashmir
Apr 25, 2018 02:08 PM IST
Officials say much-maligned pellet guns will give way to chilli bombs and 'soft-nosed' tear gas shells to avoid collateral losses during paramilitary action. CRPF personnel in the Valley, however, seem to have reservations about the new plan.
Paramilitary forces engaged in battling stone-pelting protesters across Kashmir will shun pellet guns in favour of "soft-nosed" tear gas shells and chilli bombs, officials familiar with development have said.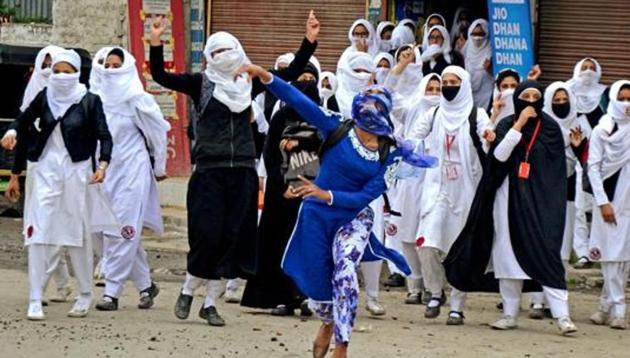 The tear gas shells, which have undergone successful trials, will have a softer plastic head aimed at reducing chances of inflicting grievous injuries on protesters. Chilli shells are already being used in the Valley.
However, the Srinagar directorate of the Central Reserved Police Force (CRPF) seemed wary of being made to use less lethal weaponry. Indications to this effect came to light soon after several CRPF units in south and central Kashmir were trained in crowd-handling tactics by instructors from the Rapid Action Force (RAF) – the country's premier agency for handling mobs in mainland India – last October.
A few weeks later, the CRPF's Srinagar directorate informed its Delhi headquarters that the new tactics were not effective in the Valley because the mobs there were "more aggressive" when compared to protesters in other parts of the country.
Nevertheless, the authorities remain firm in their resolve to cut collateral losses. "Civilian casualties are definitely a concern, and we intend to address the same through the use of chilli and soft-nosed tear gas shells even if the situation deteriorates this summer," said a senior paramilitary officer on the condition of anonymity.
He said the government introduced soft-nosed shells after several rounds of trials aimed at identifying weaponry that wouldn't cause grievous injuries to Kashmiri protesters. Scores of local residents had suffered grave injuries, mostly those affecting their eyesight, during protests that broke out in the Valley following the encounter death of Hizbul Mujahideen commander Burhan Wani in 2016.
"The plastic of the soft-nosed shells melts very easily, releasing a gas that helps disperse the crowds. So the shells cannot be fatal in themselves. Secondly, we have made advancements in tear smoke munitions (TSM) that can be used more prominently than other crowd-control weapons," said another officer.
While violent street protests are a common occurrence in the Valley, there have been multiple incidents where crowds have broken through security reinforcements at encounter sites in attempts to help trapped militants escape. "This has further complicated the Kashmir situation," said a paramilitary officer, adding that attempts to sabotage counter-insurgency operations have been taken up in discussions with the ministry of home affairs.
CRPF director general RR Bhatnagar said the force follows a multi-step mechanism for handling hostile crowds. "The first weapon used to disperse the crowds, be it near an encounter site or anywhere else, is the TSM. The next in the list are chilli bombs, followed by pump action guns. Preventing collateral damage is our priority. We do not want civilians getting injured during counter-insurgency operations," he added.
When asked to comment on the Srinagar directorate's view on RAF training, Bhatnagar said: "The training was not rejected. The force's strategy is dynamic, and we keep discussing alternative and innovative methods to deal with crowds."