'Reporting about anything can prompt backlash': Gauri Lankesh's murder shows journalists are in line of fire
Updated on Sep 07, 2017 10:11 AM IST
India ranks 136th out of 180 countries, only one notch above Pakistan and below strife-torn Palestine, in the world press freedom rankings released this April by Reporters Without Borders.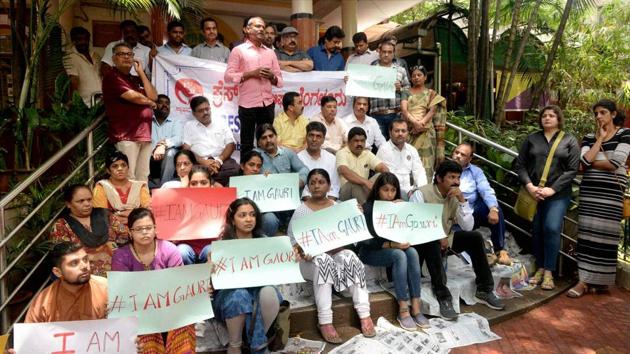 Months before her death, Gauri Lankesh, the editor of the Lankesh Patrike, an outspoken Kannada weekly, gave a prophetic interview.
"Let me assure you, they are keen to somehow shut me up too," Lankesh said in an interview in November, 2016. She was referring to the unsafe times we were living in if we stood opposed to the ideology of the party in power. Few thought the words would ring true so quickly.
On Tuesday evening, unidentified assailants shot Lankesh three times before escaping on a motorcycle.
In life, Gauri Lankesh described herself as a "journalist-activist", and her paper followed a clear editorial policy of opposition to those she described as "communal forces".
Her death has drawn attention to some uncomfortable truths about Indian journalism: Journalists who write against the powerful do so at the risk of swift and occasionally fatal retribution — India ranks 136th out of 180 countries, only one notch above Pakistan and below strife-torn Palestine, in the world press freedom rankings released this April by Reporters Without Borders.
Those attacked, are invariably the most vulnerable. Of 70 journalists who were killed in India between 1992 and 2017, the Committee for Protection of Journalists found, a vast majority wrote for the language press, suggesting that press freedom in India is largely a preserve of the English media.
While the English-language press suffers under its own pressures, most notably the India's expansive defamation laws; for the rest of the press, the media environment is no different from that in more authoritarian regimes like Russia and Turkey.
Lankesh's journalistic life, which began with a mainstream English newspaper, before she returned to Bengaluru to run the Kannada newspaper started by her father P Lankesh, and was buffeted by defamation cases, threats of physical violence, and ultimately assassination, epitomises this disjuncture.
"These (regional language) journalists go straight to the people," said Chandrashekhar Patil, editor of Sankramana, a Kannada literary journal. "Their targets are straight forward, and their appeal is direct and simple. That is what the fascist forces are afraid of."
"The regional press is targeted more because it reaches the constituents of politicians and parties," said Sevanti Ninan, editor of The Hoot, a media-watchdog website that closely tracks attacks on press freedom.
For Lankesh's friends and supporters, her death is also part of broader pattern of attacks on independent thought and expression in India.
"Dabholkar, Pansare, Kalburgi and now Gauri. These deaths are in one straight line," said K Marulasidappa, referring to the three rationalists who were killed in a similar fashion in Karnataka and Maharashtra between 2013 and 2015. Press freedom, Marulasidappa said, could not be thought of as separate from the broader struggle for free speech.
A review of the most recent deaths, like Dharmendra Singh, a Dainik Bhaskar report in Bihar who was killed in November last year, or Raj Deo Ranjan, the bureau chief of Hindustan, suggests the threats to journalists have grown in lockstep with the rise of a powerful nexus between politicians, local businessmen, and district officials.
"The problem is that politicians no longer just want bribes from business, they want to own a business. They want to own a mine, they want a mill," said a Hindi language journalist seeking anonymity to speak freely. "Earlier, it was dangerous to write about some things, now reporting about anything can prompt a backlash."
Reporters in conflict zones like Chattisgarh and Jharkhand are hobbled by the fear that officials in the district administration and police often have a stake in these businesses as well.
"If you write a story about illegal logging in Chhattisgarh, the police will beat you up no questions asked," said a reporter who has encountered such violence, "Then they'll call you a Maoist."
Reporting on human rights violations by the state can have similar repurcussions. In September 2015, for instance, Bastar-based journalist Santosh Yadav, was arrested under the Chhattisgarh Special Public Security Act, and imprisoned for over a year, when a policeman claimed he saw Yadav standing behind a Maoist commander during an ambush in the Darbha region.
The problem, many reporters said, was the absence of a robust press body to support journalists under threat.
"After all, who thinks about the district reporter?" said a journalist, "he or she is just hoping that the power of the press will save him."