Golfer Jyoti Randhawa arrested on poaching charges in Uttar Pradesh
Hindustan Times, Bahraich |
Shariq Rais Siddiqui
Dec 26, 2018 11:48 PM IST
Jyoti Randhawa, 46, ranked in the top 100 of the Official World Golf Ranking several times between 2004 and 2009.
International golfer Jyoti Randhawa and ex-Navy officer Mahesh Birajdar were arrested on Wednesday on charges of poaching in Bahraich district of Uttar Pradesh, a senior forest officer said. A gun, ammunition, the hide of a sambar and a jungle fowl presumably shot by them were recovered from the duo.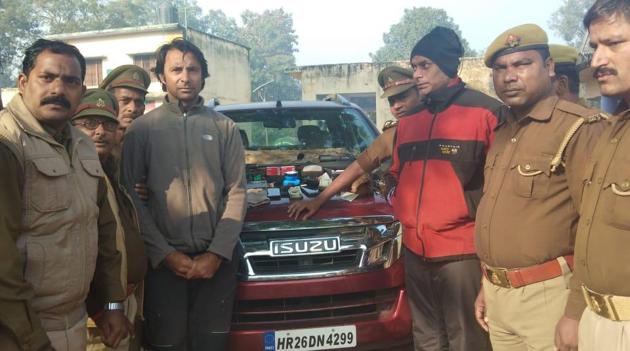 This is the second time in recent months that the name of Randhawa, who fancies himself as a shooter, has cropped up in the context of a controversial wildlife hunting incident. He was with Asghar Ali Khan when he shot tigress Avni (aka T1) in Maharashtra's Yavatmal forests on November 2.
The arrests took place in Motipur range of Katarniaghat, a wildlife sanctuary in Uttar Pradesh's gangetic plains, field director of Dudhwa Tiger Reserve (DTR) Ramesh Kumar Pandey said. He said a joint team of the State Tiger Protection Force (STPF) and forest department officials caught the duo hunting in the sanctuary.
A sports utility vehicle, a .22 rifle and ammunition were seized from the two, the official said. A senior officer said that if convicted, the duo could be awarded a maximum punishment of seven years' imprisonment. However, convictions in such cases are rare, especially if the hunter is high-profile. Hunting of wildlife is banned in India but practiced on the sly. STPF sub-inspector Satendra Kumar said the forest team spotted a vehicle in the restricted core area of the sanctuary in the early hours of Wednesday. "The vehicle had a Haryana registration. Besides the rifle, the team recovered the hide of a sambhar deer, a hunted red jungle fowl, binoculars, a high-beam torch and 80 live cartridges," he said.
Jyotinder Singh Randhawa alias Jyoti Randhawa, 46, figured in the top 100 of the Official World Golf Ranking several times between 2004 and 2009. He turned a professional in 1994 and finished at the top on the Asian Tour money list.Having 16 professional wins to his credit, Randhawa participated in eight Asian and European tours.Randhawa, a resident of Gurgram on the outskirts of Delhi, has, in recent years, started participating in shooting events.
Randhawa was married to actress Chitrangada Singh in 2001. The couple divorced in 2014.
Born in 1972, Randhawa grew up in Lakhimpur Kheri district of Uttar Pradesh, where his armyman father owns a farmhouse.
DTR field director Ramesh Pandey said Mahesh Birajdar, who was held with Randhawa, was an ex-Navy officer and was court martialled for embezzlement in 2008. Some reports also claim he was a former national level shooter. The nexus between some shooters and gun-running and hunting/poaching came to light with the seizure of a significant number of guns and poached wildlife from the Meerut house of a national level shooter Prashant Bishnoi in 2017. Bishnoi was arrested and revealed during interrogation that he and other shooters used to pass off the weapons being imported into India as being brought in for use by them in shooting competitions. The Indian government allows limited import of guns and ammunition by sports shooters.
Divisional forest officer (DFO), Katarniaghat Wildlife Sanctuary, Gyan Prakash Singh, also reached the spot and interrogated Randhawa and Birajdar.
Singh said Randhawa had not booked any forest rest house in the sanctuary and was found hunting in the restricted area with a rifle and other poaching equipment.
"Randhawa told us that he was staying in his father's farmhouse which is adjacent to the sanctuary. He said he entered the sanctuary for fun and adventure," Singh said, adding that the entire sanctuary was a tiger reserve area and entry with firearms was restricted.
Singh said Randhawa not only entered the sanctuary with a mounted rifle, but also hunted a jungle fowl. At least 66 currency notes of ~500 denomination were also recovered from the duo.
The DFO said a case under various sections of the Wildlife Protection Act, 1972 and the Indian Forest Act, 1927, has been registered against them.
In a letter dated October 6, 2018, the chief conservator of forests, Yavatmal, stated that hunter Shafath Ali Khan and his team, which included his son Asghar Ali Khan and Randhawa, were allowed to shoot T1 in self-defence if tranquillising efforts failed. The letter didn't mention Randhwa's exact role in the operation. Asghar Ali Khan, in an interview to HT in November, said the golfer was involved in the operation because he had Cane Corso (Italian mastiff) dogs that could track the tigress.