Gorakhpur deaths: Doctor who was hailed as 'hero' removed from BRD hospital post
Aug 14, 2017 07:19 AM IST
Dr Kafeel Khan, who reportedly saved many encephalitis-affected children, was sacked on charges of dereliction of duty and has been accused of fabricating stories.
Dr Kafeel Khan, nodal officer and in charge of the encephalitis ward of the BRD Medical College, was removed from the post on charges of dereliction of duty and carrying out private practice on Sunday.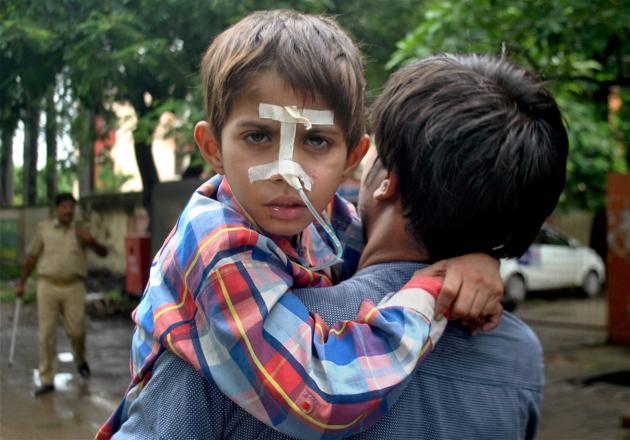 A day after he was reported as saving many encephalitis-affected children, he was accused of fabricating stories in the media to show himself as a saviour of children, medical college sources said.
Khan runs a 50-bed hospital for children, Medispring Hospital and Research Centre in Gorakhpur, under the ownership of his wife Dr Shabista Khan, a dentist.
Khan, a paediatrician, and a former principal of the medical college, Dr RK Mishra, were responsible for ensuring a steady supply of oxygen cylinders in the medical college, hospital sources said.
Mishra was suspended on Saturday after which he resigned.
Khan was also a member of the purchase committee of the medical college and had complete information about pending dues of Pushpa Sales, the Lucknow-based company that supplies oxygen cylinders to the medical college, the sources said.
Non-payment of dues resulted in stopping of oxygen supply to the hospital.
After initial investigation, Mishra and Khan were found to be largely responsible for the shortage of oxygen gas cylinders in the hospital where over 60 children died in the last six days.
On Saturday, Khan was photographed on the medical college campus with relatives of the deceased children in a solemn mood.