Hadiya's husband says now we can live normal life after SC order in Kerala 'love jihad' case
Updated on Jan 23, 2018 10:53 PM IST
The Supreme Court on Tuesday said the NIA cannot question Hadiya's marriage because she is an adult but can continue with its investigation into cases of alleged forced conversion.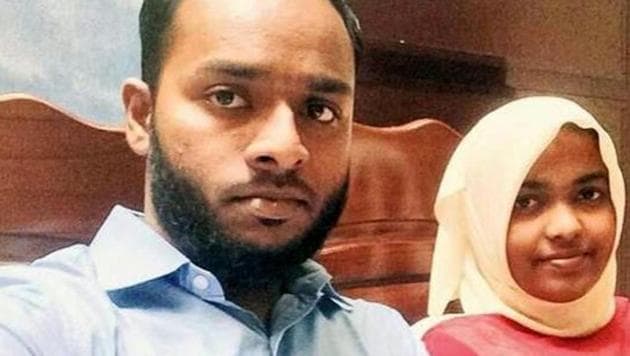 Hinduistan Times, New Delhi/Thiruvanathapuram |
Snigdha Poonam and Ramesh Babu
"I feel we can lead a normal husband-wife life now," said Shafin Jahan, Hadiya's husband, as he received the dispatches from the Supreme Court from Tuesday morning. "Allah is supreme. Truth will prevail, always," he added. Hearing a request made by Jahan, a bench of the apex court made a statement long awaited by the woman and her husband: "That's her choice."
"You cannot investigate the marital aspect...you cannot investigate whether she married a good person or a bad person," Chief Justice Dipak Misra said on Tuesday. The National Investigation Agency (NIA) has been investigating – on directions of a Supreme Court order in August last year— if the marriage of 25-year-old Hadiya, a Hindu by birth, to 27-year-old Jahan, a Muslim, was a case of "love jihad".
Since May 2017, when the Kerala high court annulled the marriage in response to a petition filed by Hadiya's father, KM Ashokan, alleging forcible conversion and indoctrination, the couple has jumped through endless legal hoops.
First sent back to her parents' house in Kerala and then placed in charge of her college principal in Tamil Nadu, Hadiya's interactions with Jahan have been short and supervised.
Now, more than a year after she decided to change her religion and get married, Hadiya looks forward to living her life on her own terms.
The homeopathy student was attending a class when she heard the news.
"I went and told her what the court had said. She said she was happy," said G Kannan, principal of her college in Salem.
Jahan, who described his struggle, from legal battles to terror charges, as "harrowing", can't wait to move on as well.
Asked what the couple will do next, he said, "That I will decide after consulting with my wife. I am yet to talk to her. I will be meeting her in a couple of days." For the moment, he can't thank the judicial system enough.
"I have unflinching faith in judiciary. For people like us it is the last resort." The judiciary is the last resort for her father, too, who has been bewildered by the court's remarks and hopes "it is an observation and not the final verdict."
Ashokan, who first went to court in January 16, 2017, continues to be convinced that the courts won't "do something that goes against my daughter's life."
He will only believe the court's words when he sees them in writing.
If he is confronted with court documents repeating the words, Ashokan, who has alleged in the past that his daughter will be taken to Syria and recruited into IS, still won't give up.
"I will fight till the end," he said, adding that no father would like his daughter turning "a human bomb in an alien country."
If the couple goes on to live together, Ashokan said will move a new petition in the court asking that their foreign travel be restricted, especially to middle-east countries.
"As a father I did my duty to save her from wrong hands. She is my only daughter and I have to ensure her safety."
Jahan said he doesn't harbour "any ill-will against her parents".
He spoke of his faith in Hadiya's willpower, which has carried them this far and will keep them going.
"Her stern position moved me several times. Despite many pulls and pressure she struck to her stand."
Personalise your news feed. Follow trending topics