Haryana minister gives Rs 50 lakh to Dera Sacha Sauda for sports
Updated on Aug 29, 2016 08:40 AM IST
A top Haryana minister donated Rs 50 lakh from his discretionary fund to a sect headed by controversial Sikh leader Gurmeet Ram Rahim Singh, reports said on Sunday.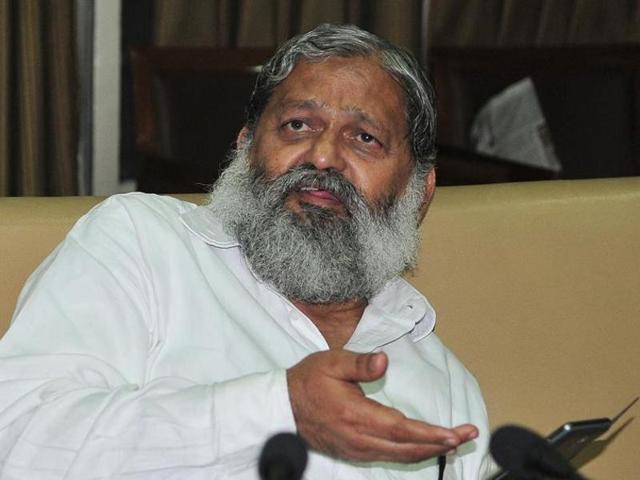 Hindustan Times |
, Sirsa / Chandigarh
Richa Sharma
Haryana sports minister Anil Vij has stirred a controversy after announcing Rs 50 lakh grant from his discretionary fund to a religious sect in the state for promoting sports. He added that he would have given more money if he had it.
Vij announced the donation during a visit to Dera Sacha Sauda headquarters at Sirsa on Saturday night where he witnessed a sporting event named 'Tiranga Rumaal Chu'. The game has been introduced by controversial dera chief Gurmeet Ram Rahim Singh who was also present when the minister announced the grant to loud cheers from the audience.
The minister, while announcing the grant, described the game, a combination of kabbadi, kho-kho and wrestling, as "very interesting".
The dera chief said the money would be used to prepare players for the next Olympic games.
He said a sports village would be built soon and the players would be given best training to win gold medals. There was no mention of any particular discipline, though. Tellingly, the games played at the sect's stadium are created by Gurmeet Ram Rahim himself and are not played at national or international level.
Guidelines for grants fuzzy
Like all other ministers, Vij has discretionary grant of Rs 5 crore a year, while the discretionary grant of the chief minister is Rs 40 crore. The Khattar government had enhanced the discretionary grants of the CM and ministers within days of coming to power in the state. In the first 15 months of the government's tenure (November 2014 to January 2016), Khattar had donated crores to private gaushalas (cow shelters) in the fund-starved state for cow fodder and sheds.
There are no detailed guidelines or criteria for allocating such funds. "The guidelines governing the discretionary grants are fuzzy and the release of funds depends on the discretion of ministers, leading to inconsistencies," sources said.
Vij defends his action
Vij, however, defended his action. "What is wrong with it? They run schools, sports are promoted there. I cannot give more than this. If I had more money, I would have given it," he said. The sports minister had recently drawn flak for leading a big delegation that included two MLAs to Rio de Janeiro to support Haryana's athletes at the Olympics.
Congress spokesperson Randeep Surjewala, on being asked for his reaction on the minister's move to announce a grant for the dera whose chief is facing multiple cases, said he was not aware of the details, but all political parties were for giving donations to encourage sports. "It is for the minister to decide who he is donating the money to. He has to take the decision about that," the Congress leader said.
Known as the "guru in bling" for his penchant for garish costumes, the 48-year-old dera chief, who commands a following of many crores, has been known to assist political parties. He is facing trial over the murder of a journalist in 2002 along with charges of sexually exploiting female followers.
Close Story
Personalise your news feed. Follow trending topics