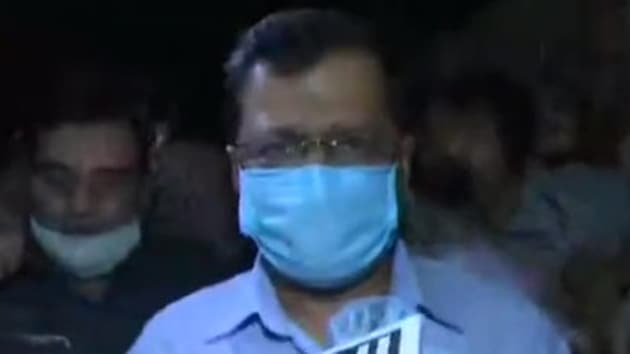 Hathras protest latest updates: 'No politics on this issue', says Arvind Kejriwal at Delhi protest
CPM General Secretary Sitaram Yechury and CPI leader D Raja also joined the protests.
Hindustan Times, New Delhi | By hindustantimes.com | Edited by Prashasti Singh
UPDATED ON OCT 02, 2020 09:53 PM IST
Followers of Bhim Army chief Chandrashekhar Azad and Aam Aadmi Party (AAP) supporters gathered at Jantar Mantar on Friday evening to protest against the gang-rape of the 19-year-old Dalit woman in Uttar Pradesh's Hathras.
Azad said that he will visit Hathras and urged the Supreme Court to take cognizance of the incident.
"I will visit #Hathras. Our struggle will continue till the time UP CM doesn't resign, & justice is served. I urge SC to take cognizance of the incident," he said.
Delhi chief minister Arvind Kejriwal, CPM General Secretary Sitaram Yechury and CPI leader D Raja also joined the protests.
"The UP government has no right to stay in power. Our demand is that justice should be served," Yechury said.
Here are the latest updates:
- Narco polygraph tests of the SP and DSP are also to be conducted, UP Chief Minister's Office has said.
- Meanwhile, Uttar Pradesh Chief Minister Yogi Adityanath has ordered the suspension of Hathras superintendent of police Vikrant Vir and three other police officers for their handling of the gang-rape case.
- Entry and exit gate of Janpath metro station have also been opened now, says DMRC.
- DMRC has opened exit gates of Rajiv Chowk and Patel Chowk metro stations now.
- "The entire country wants that the culprits should be given stringent punishment. Some people feel that attempts are being made to save them. At this time, the victim's family needs all the possible help," says Kejriwal.
- "This is a fight for justice for the family of the victim.There should be no politics over this issue. Such a crime should not have happened in any state in the country. No matter where it happens, Madhya Pradesh, Uttar Pradesh, Rajasthan, West Bengal, or any city, Bangalore, Kolkata, or Delhi, the victim will always be one of India's daughters. We have to ensure that rapes do not happen at all anywhere in the country," says CM Arvind Kejriwal.
- Delhi CM Kejriwal leads a candle light vigil on Jantar Mantar Road, flanked by AAP leaders including Aatishi, Saurabh Bharadwaj and Durgesh Pathak.
- Delhi chief minister Arvind Kejriwal has joined the protest at Jantar Mantar
- In view of the protests, Janpath metro station has been shut and exit gates at Rajiv Chowk and Patel Chowk stations will not be open, DMRC said.
- In a video message released earlier during the day, Azad said that Prime Minister Narendra Modi needed to break his silence over the brutal rape of the woman.
"The PM washes the feet of Dalits before elections but remains quiet when a Dalit daughter of Uttar Pradesh is brutally raped. We will organise a protest at India Gate at 5pm today. The PM will have to give us answers," he said.
Close