Read my lips… I've information on PM Modi's corruption: Rahul Gandhi
Updated on Dec 15, 2016 01:56 AM IST
Congress vice president Rahul Gandhi said on Wednesday that he has "personal information" about corruption by Prime Minister Narendra Modi but that he wasn't being allowed by ruling lawmakers to speak about it in Parliament.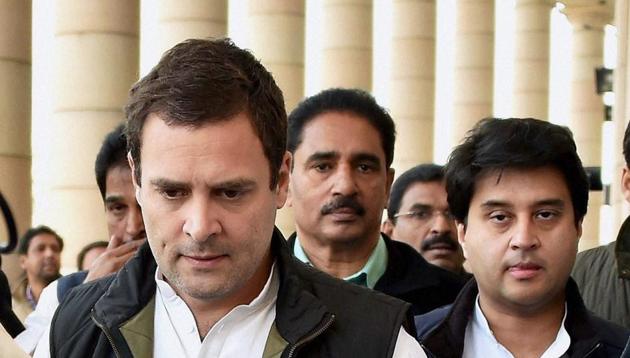 Hindustan Times, New Delhi |
Aurangzeb Naqshbandi and Saubhadra Chatterji
Congress vice-president Rahul Gandhi said on Wednesday that he knew about "personal corruption" by Prime Minister Narendra Modi, who was "terrified" of the information, but he wasn't being allowed by the government to speak about it in Parliament.
Gandhi gave no detail, and a government minster sought to dismiss the charge as "the biggest joke of the year".
"Read my lips. The Prime Minister is personally terrified with the information that I have. I have information on the personal corruption of (the) Prime Minister," Gandhi said at a press conference in the Parliament building.
"I want to reveal in Lok Sabha… The government is not allowing me to speak. PM is afraid that if he lets me speak then his balloon will burst."
Read | Oppn on offensive, BJP hits back: Who said what after Rahul's salvo at PM Modi
Gandhi has been sparring with Modi over the government's controversial recall of high-value banknotes, but it's the first time he has cast aspersions on the integrity of the Prime Minister, who rode to power two years ago vowing to stamp out corruption.
Gandhi's accusations are likely to worsen already tense ties between the government and the Opposition over the demonetisation of 500 and 1000-rupee bank bills, a tussle that has stalled Parliament. Gandhi had earlier said if he speaks in Parliament there would be "an earthquake and Modi would not be able to sit".
The response from the government was swift. Parliamentary affairs minister Ananth Kumar dared Gandhi to provide proof. "His allegations are totally baseless… He has made himself a laughing stock," he said. Minister of state for home Kiren Rijiju called the allegations "the biggest joke of the year".
In a sign that Gandhi could come under pressure to make public the information he has, Delhi chief minister Arvind Kejriwal, a bitter rival to both the Congress and the BJP, termed the development a "friendly match" between the two parties.
He tweeted, "If Rahul Gandhi actually has papers on Modiji's personal involvement in corruption then why doesn't he expose it outside Parl?"
Read | Why doesn't Rahul Gandhi expose Modi's corruption outside Parliament: Kejriwal
Gandhi's allegations took even his party colleagues and allies by surprise. Trinamool's Sudip Bandopadhyay, who sat next to him in the press conference, told HT, "He only said he will target the PM for not allowing the Opposition to talk."
Prime Minister Modi has sought 50 days to tide over the cash crunch but that hasn't pacified the Opposition. Protests over the demonetisation move have virtually washed out the Winter session of Parliament, and little legislative business is expected in its remaining two days.
The belligerent opposition wants Modi to speak in the House on demonetisation, a surprise move that has left millions of people lining up at banks and ATM kiosks for more than a month. On his part, the Prime Minister has accused the Opposition of not allowing him to speak in the House, and has, instead, chosen to defend his decision at public rallies.
Later in the day, Gandhi reiterated his charge at the Congress headquarters that the demonetisation move had dealt a "lethal blow" to farmers.
Read: Rahul Gandhi must substantiate corruption charge against PM