Heat, holiday keep voters away as turnout drops across Delhi
The highest turnout, 63.45%, was registered in the North East Delhi LS seat, which largely has unauthorised colonies and slums and small pockets of middle-class neighbourhoods.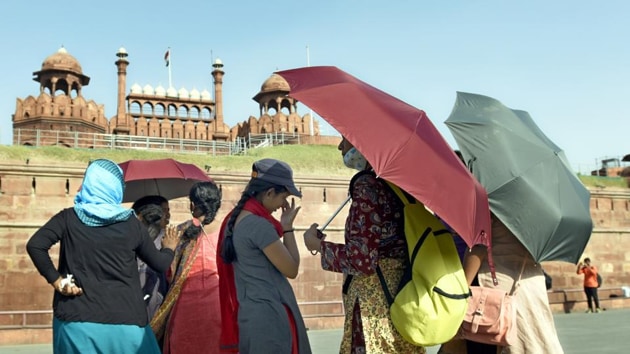 Updated on May 14, 2019 07:41 AM IST
Heat and holiday seemed to have played a dampener as Delhi recorded a 4.76 percentage points dip in voter turnout on Sunday. Only 60.34% of the 1.43 crore electorate stepped out to cast their votes, compared to 65.1% in the 2014 elections.
The highest turnout, 63.45%, was registered in the North East Delhi LS seat, which largely has unauthorised colonies and slums and small pockets of middle-class neighbourhoods.
The Delhi Chief Electoral Officer (Delhi CEO) and political analysts said the weekend affected the turnout. "This year, elections are being held in peak summer. In 2014, elections were held on April 10 when the weather was comfortable. Also, polling was held on a weekend," said a senior official.
Sanjay Kumar, director at the Centre for the Study of Developing Societies, agreed. "Sunday is not a good day to hold elections, especially in cities like Delhi where the voters are largely urban and work in the formal sector. There is lack of enthusiasm if polling takes place on a holiday."
The low turnout, Kumar says, indicates it wasn't a "keenly contested election". "It also shows that victory margins are going to be very low," he said.
Delhi BJP in-charge Shyam Jaju was confident of retaining all seven seats but predicted low margins. "Our vote share is intact and we are likely to gain in seats with large number of illegal colonies and slums, which are considered AAP's stronghold. The victory margin will depend on how the votes split between AAP and the Congress," said Jaju.
But AAP, which stood second in all seven seats in 2014, said the drop in turnout is a good sign. "The drop in the turnout suggests the Modi wave is over. A large number of people who had voted in the 2014 wave election did not cast their vote this year," said Raghav Chadha, AAP's national spokesperson and Lok Sabha candidate from South Delhi.
P K Datta, a professor in School of International Studies in Jawaharlal Nehru University, said, "Whenever voter turnout is down, the proportion of committed voters for parties usually increase. The current turnout suggests parties succeeded in mobilising voters in areas where they already have influence."
The Sunday factor showed up the most among middle-class voters and traders . Turnout in at least 13 assembly constituencies, largely having middle-class families and traders, saw a decline of more than six percentage points compared to 2014. These include Adarsh Nagar and Model Town in Chandni Chowk, Karol Bagh and RK Puram in New Delhi, Rajouri Garden and Uttam Nagar in West Delhi and Kalkaji in South Delhi.
Unauthorised pockets saw an average dip of 5-6 percentage points in turnout this year.
In Seelampur, part of North East Delhi, Bawana in North West Delhi and Kondli in East Delhi, the turnout was 1-2% points lower than 2014. But in Wazirpur, part of Chandni Chowk LS seat, the dip was as high as 7.89% points, while in Sangam Vihar in South Delhi, Uttam Nagar in West and Malviya Nagar in New Delhi constituencies, the decrease remained between 6- 7% points.
Delhi Congress working president Haroon Yusuf said voters in these areas are the most affected by inflation, unemployment, security and thus they came out to vote in large numbers.
Senior BJP leader Vijender Gupta said, "When the voter is not convinced with the party he/she follow, they tend to stay away. It is like when India is losing a match, we tend to either turn off the TV or switch the channel."
AAP's North East Delhi candidate Dilip Pandey said, "AAP's committed supporters, did step out to vote. The low turnout in these colonies could be due to a segment of mid-income group voters who didn't vote."
Both AAP and the Congress have expressed their concern about a split in the Muslim vote, which varies between 15% and 25% in the seven seats. Except for Ballimaran and Matia Mahal, where the turnout was marginally higher or almost the same as the 2014, all assembly segments with a sizeable presence of the community saw a dip. Assembly segments such as Babarpur, Seelampur, Ghonda and Trilokpuri saw a 3%-5% points drop.
Yusuf said the Congress has regained the Muslim vote because "it is the only alternative to the BJP".
But Pandey said, "The vote will split between AAP and the Congress. But we are not solely dependent on Muslims."
The turnout in 11 reserved assembly constituencies dropped by 3-7 percentage points.
Close Story