Gujarat DGP turns the heat on cops, orders removal of ACs across 600 stations
Updated on Mar 29, 2017 08:20 PM IST
It's going to be a long, hot summer for cops in Gujarat with police chief P P Pandey ordering the removal of air conditioners from over 600 police stations to keep his force on its toes and cut power costs.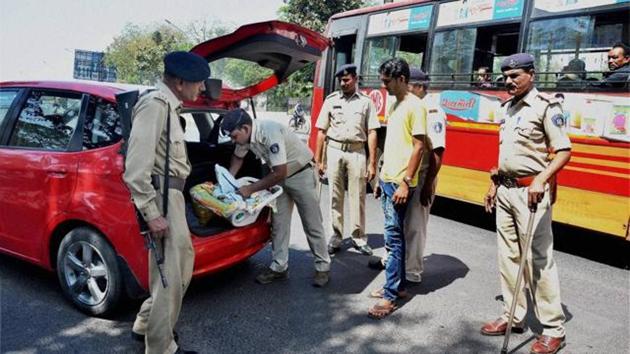 Gujarat director general of police P P Pandey has ordered removal of air conditioners from over 600 police stations across the state as they are not entitled to this 'luxury'. The order says air conditioners not just add to the electricity bill but also make officers avoid patrolling and other outdoor duties for the cool comfort of indoors.
The order means that with the mercury hovering around 43 degrees Celsius in Gujarat, policemen are all set get drenched in sweat. And they include not only those on field duties. Officers of sub-inspector and inspector ranks are also likely to feel the heat even while working indoors.
The DGP's order comes on the heels of a similar diktat by Surat police commissioner Satish Verma last week after he found that police stations had procured air conditioners either as a 'donation' or they were 'managed' unofficially by the staff.
The DGP's notification dated March 27 has asked the police station to execute the order within 10 days and also send a report in this regard.
"It has come to the notice of DGP's office that many police stations have installed ACs donated by public or acquired unofficially. As the rank at police stations is not entitled to use AC offices, its use not only adds to the electricity bill but also make many police in-charge not leaving the comfort for outside duty in their non-AC vehicles," says the notification.
Policemen maintained that the order will be followed. But many argued that in a hot state like Gujarat, air conditioners are not luxury but a necessity.
"Especially in the months of May and June, it is nearly impossible to manage without a cooling system. The temperatures in these months often hover between 45 and 47 degrees Celsius," said an inspector.
In Ahmedabad, 26 air conditioners are installed in the crime branch office, 18 in cyber cells and 14 in Special Operations Group (SOG). These will have to be removed now. Apart from police stations, most of police chowkis including Shahpur, Navrangpura and Sheherkotada ranges also have air conditioners. The DGP's notification has also sought information on when and how these air conditioners were procured.
Personalise your news feed. Follow trending topics