HT interview: Egypt enjoys key strategic location, says President Sisi
Updated on Jan 26, 2023 11:45 AM IST
Egypt's President Abdel Fattah El-Sisi, the chief guest at the 2023 Republic Day celebrations, spoke to Hindustan Times on the contours of the India-Egypt relationship, and a range of other bilateral and international issues.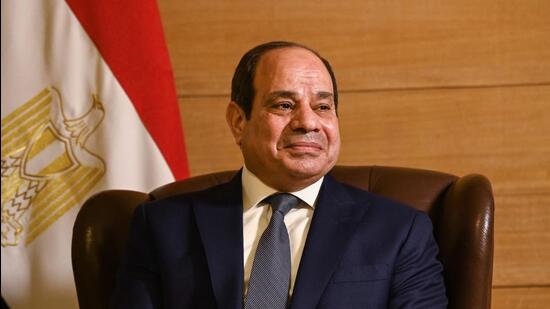 Egypt's President Abdel Fattah El-Sisi, the chief guest at the 2023 Republic Day celebrations, spoke to Hindustan Times on the contours of the India-Egypt relationship, and a range of other bilateral and international issues. Edited excerpts:
India and Egypt have a long history of cooperation and close ties but you are the first Egyptian head of State to be invited as the chief guest for India's Republic Day celebrations and Egypt is a guest country under India's G20 presidency. How does Egypt view these developments?
Egypt is grateful for the invitation for such an honourable event, which is not important only for the Indian people, but also for the Global South and developing countries. I would also like to stress that Egypt-India relations are not spur of the moment, but rather solid and extended relations that are rooted to around 75 years, and therefore there is a large deal of historical cooperation between the two countries that can be built upon and provides promising opportunities for advancing bilateral relations.
India and Egypt worked closely together in the days of the Non-Aligned Movement, but in a rapidly changing world, what are your plans for ties between the two countries and their peoples to rediscover each other? How do you propose to revitalise Egypt's relationship with India?
The Egypt-India relations are gaining more and more strength day after day, and extending to include various aspects and areas of cooperation on all political, economic, military, security, as well as social and cultural levels. I affirm that the two countries are keen on strengthening bilateral relations in various fields, and I am sure this visit will witness more fostering of the partnership between the two countries in various fields, taking into account the technological and financing capabilities of India, and the promising opportunities for work and investment that Egypt provides in addition to the continuation of consultation and coordination between the two governments at the regional and international levels.
Given that Egypt is a country straddling the Middle East and Africa, what are the priorities for your country's foreign policy going into 2023? Can India and Egypt work together in third countries in Africa, both for development and business?
Egypt is keen to invest in close relations with India in order to establish tripartite cooperation for the benefit of African and Arab countries and cooperation within a South-South framework, taking into account the availability of technical expertise and financing capabilities of India, at a time when Egypt enjoys a distinguished strategic location that serves as a gateway for India to Africa. All this can be done bearing in mind that Egypt welcomes Indian investments, whose products can be exported to African countries with which Egypt has free trade agreements.
The Red Sea and the Mediterranean Sea, both crucial for global commerce due to the Suez Canal and Bab-el-Mandeb, are witnessing greater competition involving external and world powers. How does Egypt see such competition and can Egypt work with India in this region to ensure the free flow of trade?
Egypt follows a foreign policy that has solid roots and is governed by firm principles, foremost of which is the refusal to interfere in the internal affairs of states, respect for the sovereignty of states on their lands, and commitment to work to promote peace and advance development, especially in the Arab world and with Africa. These principles stem from our conviction that our peoples deserve from us the consolidation of dialogue and cooperation and the promotion of construction, progress and prosperity for our peoples. The relations that bind us with the Arab and African countries have deep roots in history, in addition to being relations of a common destiny, and we are keen to support all efforts that would improve the political and socio-economic development of the Arab region and Africa. To that end, we are willing to cooperate with India as a major political and economic power.
The Middle East has been impacted by the rivalry between Iran and Saudi Arabia. Can India and Egypt, as nations with good relations with the key players in this region, help manage such tensions?
As I mentioned, the determinants of our approach towards the existing crises in the region are based on respect for the sovereignty of states and finding a peaceful solution to crises. We always welcome furthering the dialogue with India on regional affairs that affect the national security of the two countries, and regional and international security.
Terrorism has been a concern for both India and Egypt. How can the two sides cooperate to tackle this menace that has affected the two countries?
Today's world has become complex and changing. It constantly faces new challenges, the causes of which overlap and their effects are ramified and cannot be addressed in one region exclusively. At the forefront of these challenges comes terrorism, which knows no religion, homeland or borders, and its treacherous hand and negative effects extend to destroy the lives and capabilities of peoples and undermine the structure of States and their entities. In the midst of all these challenges, the role of Egypt and India stands out, as both of them are qualified to play an active role at the international level in that regard.
Egypt is keen to strengthen its cooperation with India in the fight against terrorism. We believe that the approach should be carried out through a comprehensive strategy that does not stop at the borders of military and strategic cooperation, but extends to social and economic dimensions and cultural and intellectual aspects. Providing security and stability must be accompanied by creating a stable environment for economic growth and employment opportunities, as well as the settlement of protracted conflicts, all of which are conditions that terrorist groups exploit in order to attract new elements to their ranks.
The fallout of the Ukraine war has affected developing countries at a time when India and China are locked in a military standoff. How does Egypt view these developments in the context of global peace and security?
Egypt stresses the need to prioritise dialogue to settle the Ukraine-Russia crisis. We affirm Egypt's support for diplomatic solutions that could avoid further aggravation of the crisis and preserve international security and stability. In addition, there are already several developing countries, especially in Africa, falling victims to this crisis and suffering from its economic ramifications, thus doubling the losses caused by the Covid-19 pandemic. Therefore, the international community must participate in supporting these countries whose economies are affected by the war, including Egypt.
As a former military officer, what are your priorities for Egypt's defence relations with India? Does Egypt have plans to acquire military hardware from India and work on joint development and manufacture of equipment?
India has political and economic influence on the international level. Deep-rooted civilisational and cultural relations bind the two countries and peoples together. We are indeed keen to foster our relations with our Indian friends on all aspects, including defence relations.
There is considerable scope to increase bilateral trade and investment between India and Egypt. What are Egypt's plans for bolstering commerce with India and have any specific areas been identified for growth? Are the two sides working together to access new markets in Africa?
We have previously touched on the commercial relations between our two countries and the opportunities to access other regional markets. We need to deepen our talks about the attractive investment opportunities in Egypt, in which we are inviting India to participate. I would like to refer, in this regard, to the national comprehensive programme for sustainable development – "Egypt's Vision 2030" -- which aims to attract investments and provide a safe and stable environment for work and development, by updating investment-related legislation from a comprehensive perspective, while encouraging the private sector to participate in implementing the government's plan to advance the economy, within the framework of strengthening the partnership between the public and private sectors.
The government is also working diligently to provide promising economic opportunities offered by major development projects in Egypt, such as the Suez Canal Economic Zone, the project to establish the new administrative capital, infrastructure projects, and traditional and renewable energy sector projects, taking into account the promising economic potential that Egypt possesses, foremost of which is its strategic location, advanced infrastructure, relatively low-cost workforce and qualified cadres.
Green fuel and green hydrogen have emerged as key areas of cooperation in renewable energy between India and Egypt. What plans does Egypt have to take forward this cooperation? Are there also plans to work with India for food security?
Egypt has a lot to contribute in the field of green hydrogen. We announced our national strategy for green hydrogen production during the 2022 UN Climate Change Conference (COP27). This strategy seeks to help Egypt contribute 8% of the global hydrogen market. We are keen to cooperate with India in this regard, as we are working on expanding agricultural land, and adapting to climate change. Hence, Egypt is walking parallel tracks to increase local production and storage capacities, as well as diversifying and securing wheat imports from many sources, including India.
On a personal level, what are your earliest memories of India and what are the feelings you associate with India? Are there any specific places you intend to visit while in India?
I have visited India many times in the past. Each time I come here, I feel at home due to the similarities between the two great civilisations, Egypt and India. I wish I have the time to visit all of India.
This Republic Day, unlock premium articles at 74% discount
Enjoy Unlimited Digital Access with HT Premium