Hyderabad: Boys burn alive three puppies, another shoots dead a dog
Updated on Jul 21, 2016 12:29 AM IST
In yet another gruesome incident, a group of boys burnt three puppies alive, filmed their act and posted it on Facebook.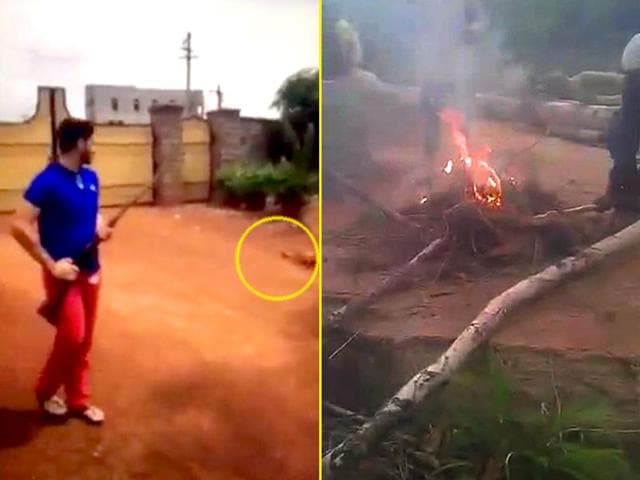 In Hyderabad, two videos have emerged of dogs being killed in cruel ways.
In the first case, a group of boys burnt three puppies alive, filmed their act and posted it on Facebook.
The incident, which happened at Vazir graveyard near Ek Minar mosque in Hyderabad's Musheerabad area on July 16 evening, came to light on Wednesday when the video clip was posted on Facebook and within hours it went viral on social media. Based on a complaint from some animal rights activists, the Musheerabad police registered a case.
In the three-minute video, five boys were seen throwing the puppies into fire made out of burning wood and garbage. When the puppies started screaming and tried to come out, the boys were seen pushing them back into the fire using sticks. They waited till the puppies were burnt completely.
The case is under investigation and the police are trying to identify the persons involved.
"We have not arrested anybody so far. We are still trying to identify the persons in the video. Prima facie, they all appear to be minors. The case is under investigation," Musheerabad sub-inspector B Ravi Kumar Reddy told HT.
Inquiries, however, said the police had taken five suspects into custody and are interrogating them.
Animal rights activist Shreya said it was evident from the first video that the boys were drawing vicarious pleasure from roasting the puppies alive in the fire. "Unfortunately, there is no harsh punishment for such gruesome killings of animals. They would get away with some fine," she regretted.
Later in the day, another video of animal cruelty surfaced on social media in which a man is seen shooting dogs with an airgun. While one of the dogs scurries away, squealing in pain, another dog collapses to the ground after being shot.
The 22-second clip, purportedly shot in Nampally area, was sent to Nampally police along with a formal complaint by an unknown person.
Humane Society International activist Navamita Mukherjee described the two incidents of animal cruelty as "shocking".
"We hope that the police and court takes swift and stern action for this inexplicable violence against the animals. A psychiatric evaluation should also be made. It is an indicator of serious anti-social behaviour, including criminal offences and violence towards women and children," she said.
She said in most cases the accused are able to get away with small fines of Rs 50, the maximum penalty prescribed under the Prevention of Cruelty to Animals Act, 1960. It is surprising that the government did not even bother to change it in the last 55 years, she added.
The disturbing videos come just weeks after of two medicos flung a stray dog from their roof top at Kundrathur in Chennai. The dog survived with a few broken bones, and was treated at Tamil Nadu Veterinary University Hospital, Chennai.
Personalise your news feed. Follow trending topics