I am Prime Minster because of BR Ambedkar, says Modi
Modi says he was inspired by Ambedkar who was highly educated and could have easily lived in any developed country but returned to India and dedicated his life to the welfare and uplift of Dalits.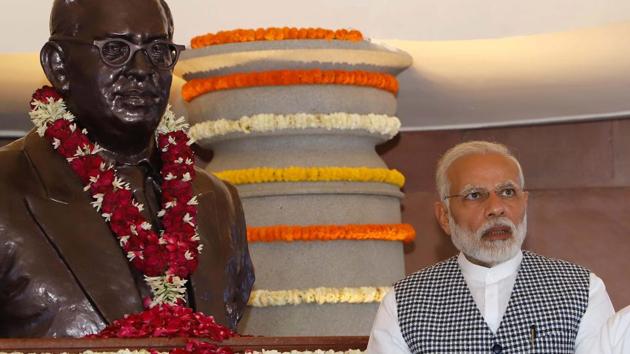 Updated on Apr 15, 2018 12:01 AM IST
Hindustan Times, Jangla (Chhattisgarh) |
Ritesh Mishra and S Kareemuddin
Prime Minister Narendra Modi hailed BR Ambedkar for drawing up a Constitution that protected the rights of backward classes and attributed his political success to the Dalit icon, whose 127 birth anniversary was celebrated on Saturday.
Addressing a public meeting in Jangla in Chhattisgarh's Maoist-hit Bijapur district, he requested the youth to shun violence and not join Maoist ranks for securing their rights.
"Baba Sahib has given us the Constitution. He ensured protection of your rights... It is the duty of the government to take care of your rights. You need not pick up weapons...ruin your lives," he told the gathering.
The awakening among poor and backward sections about their rights and aspirations was due to Ambedkar.
"Son of a poor mother like me hails from a very backward section of society and could become the prime minister due to Babasaheb Ambedkar," he said.
Ambedkar was highly educated and could have easily lived in any developed country but he returned to India and dedicated his life to the welfare and uplift of Dalits, Modi said.
"It is because of Ambedkar that today Dalits have the realisation of their rights and aspirations to live a dignified life and the government is working to fulfil their wishes and aspirations." he said.
Modi urged parents not to "hand over" their children to Maoist leaders who, he said, kept themselves safe but let the locals die.
"I want to say to the parents of these young kids who have chosen the path of violence that not a single leader among them (Maosits ) are born in your area or native to your area and they never die… Why have you given them the right to kill your kids?" he said.
Bijapur is part of the Bastar region, which has seven districts, where Maoists have a huge presence. On April 9, two jawans were killed in an attack by Maoists who targeted their vehicle with an explosive device.
Modi also launched the first phase of Ayushman Bharat, inaugurating a health centre as part of his government's ambitious healthcare scheme.
The government would open 150,000 health and wellness centre by 2022, which would be equipped to treat a host of ailments, including diabetes, cancer and age-related illnesses.
Of these, 15,000 sub-centres or wellness centres would be ready in 2018-19 and headed by a trained healthcare provider, he said.
Announced in this year's budget, Ayushman Bharat has two major components -- comprehensive primary healthcare and the national health insurance scheme (NHPS), which offers insurance cover of ₹5 lakh to every vulnerable family. The effort, which is also referred to as Modicare, is expected to benefit more than 100 million families and 500 million people.
The Prime Minister said his government was working with new ideas for the development of 115 backward districts of the country as he asked each district to come up with its own model of development according to resources available.
He said 115 backward districts of the country would be given priority in the Ayushman Bharat scheme.
The Gram Swaraj Yojana that was also launched during the day would focus on welfare of the poor, Dalits, tribals, women and the backward sections of society.
He also launched Van Dhan scheme which was announced in the budget. Under it, Van Vikas Kendras would be established to ensure better marketing and value addition to minor forest produce to benefit forest dwellers.
Modi's visit to the tribal district of Bijapur was the first by a prime minister in the last three decades and his fourth to Chhattisgarh, where assembly elections are due later this year.
The inauguration programme was chaired by Chhattisgarh chief minister Raman Singh while union health minister JP Nadda was the chief guest.
(With agency inputs)
Close Story
Personalise your news feed. Follow trending topics