Army chief Rawat warns Pak of more surgical strikes if it rejects peace overtures
Updated on Jan 14, 2017 01:39 AM IST
Army chief Gen Bipin Rawat made it clear that more surgical strikes cannot be ruled out as India has the "right to retaliate" if Pakistan does not react positively to offers of peace.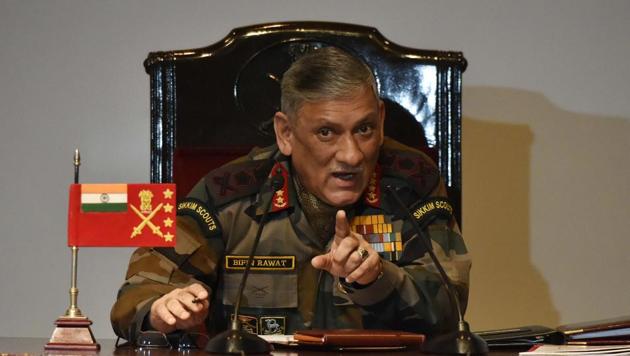 India would carry out more precision strikes on militant bases across the Line of Control if Islamabad rejects New Delhi's peace overtures, army chief General Bipin Rawat said on Friday.
Speaking to reporters in Delhi, Rawat said India had made an offer of "peace and tranquility" to Pakistan but if it did not reciprocate, "this method of execution of operations will continue".
Read | Soldiers must use grievance boxes, not social media for complaints: Army chief
"As far as surgical strikes are concerned, the aim was to ensure peace and tranquility. We are trying to ensure there is no requirement to conduct such strikes. If you (Pakistan) accept peace, we will go along," Rawat said at a customary press conference ahead of Army Day on January 15. Rawat stressed as far as the Pakistani response was concerned, India would have to adopt a "wait and watch" policy. "We have told the adversary to accept peace and in case that offer is not reciprocated, then this method of execution of operations (surgical strikes) shall continue," he said. The army's special forces conducted "surgical strikes" against militant pads in Pakistan-occupied Kashmir across the Line of Control last September, the first direct military response to the Uri attack that left 19 soldiers dead that month.
The strikes saw bilateral relations nosedive and resumption in border hostilities with daily firings and casualties on both sides. Pakistan denied the "surgical strikes" as India moved to isolate Islamabad diplomatically.
Watch | General Bipin Rawat : Want all problems conveyed directly to me
Rawat said the credit for the strikes, authorised by the government, should go only to people who executed the operations. The strikes had triggered a domestic political clamour with opposition parties alleging the BJP was trying to gain electoral mileage out of the army operation. A day after taking over as chief on December 31, he had said the army's role was to ensure peace along the borders but it would not hesitate to use force if needed. Rawat acknowledged that the challenges of proxy war, insurgency and terrorism would keep the security forces "embroiled for years to come." He said the proxy war in Jammu and Kashmir was aimed at damaging the country's secular fabric. The army chief said preserving the secular credentials would require rewinding the clock to pre-1989 years when "everyone lived together in harmony".
Read | Will look into superseded Lt Gen Bakshi's grievances if informed: Army chief Rawat
Rawat was referring to the exodus of Kashmiri pandits after militancy gripped the state. "The secular fabric was targeted and people moved out. So when we are looking at harmonious relationship and making sure that these credentials are not affected, we have to make sure that the state gets back to what it was pre-1989," he said.